| My 21st Century Blues | The Waeve | Get Up Sequences, Pt. 2 |
| --- | --- | --- |
| | | |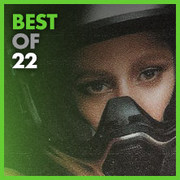 Here is Metacritic's final official list of the 40 best-reviewed albums released in 2022.
1.

Live and Dangerous [Super Deluxe Edition] - Thin Lizzy

The eight-disc box set features a remaster of Thin Lizzy's 1978 live album as well as new mixes of seven live shows recorded between 1976-1978 with 63 previously unreleased tracks, plus a 48-page booklet.

2.

Divine Symmetry: The Journey to Hunky Dory [Box Set] - David Bowie

The five-disc box set includes early demos, David Bowie's appearances on BBC Radio, alternate mixes, singles and versions, as well as a Blu-ray disc that features an alternate version of the Hunky Dory album, the 2015 remaster of Hunky Dory and a recording session from "Sounds of the 70s". Plus, a 100-page hardback book and a 60-page replica of some of Bowie's notebooks.

3.

Live at the Whisky 1977 [Box Set] - Cheap Trick

The four-disc set features live recordings of Cheap Trick's four shows from two nights at Los Angeles nightclub Whisky a Go Go in June 1977.

4.

S.O.S. - SZA

The second full-length studio release for R&B artist SZA features guest appearances from Phoebe Bridgers, Ol' Dirty Bastard, Travis Scott, and Don Toliver.

5.

12 - Ryuichi Sakamoto

The latest full-length release for Japanese composer Ryuichi Sakamoto was written and recorded in Tokyo while he was recovering from cancer treatment.

6.

Heavy Heavy - Young Fathers

The fourth full-length release for Edinburgh-based trio Young Fathers was written and recorded over three years.

7.

Live at the Fillmore, 1997 - Tom Petty & the Heartbreakers

The four-disc box set features 58 songs recorded from six concerts that were part of a 20-date residency Tom Petty & The Heartbreakers did at San Francisco's Fillmore in 1997.

8.

My 21st Century Blues - RAYE

The debut full-length release for London-based artist RAYE features a guest appearance from 070 Shake.

9.

King's Disease III - Nas

The third King's Disease album from rapper Nas was produced by Hit-Boy.

10.

Indigo - RM

The debut full-length solo studio release for BTS's RM features guest appearances from Anderson .Paak, Erykah Badu, Paul Blanco, Colde, Park Ji-yoon, Mahalia, Kim Sawol, Tablo, and Jo Yujin.