| Hogwarts Legacy | Dead Space | Hi-Fi Rush |
| --- | --- | --- |
| | | |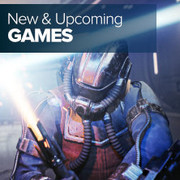 Find release dates, trailers, and scores for major upcoming and recent videogame releases for all platforms, updated weekly.
1.

Vampire Survivors

Mow thousands of night creatures and survive until dawn! Vampire Survivors is a gothic horror casual game with rogue-lite elements, where your choices can allow you to quickly snowball against the hundreds of monsters that get thrown at you. There's no place where to hide, all you can do is try to survive a cursed night and get as much gold as possible for the next survivor, before Death inevitably puts an end to your struggles.

2.

The Witcher 3: Wild Hunt - Complete Edition

You are Geralt of Rivia, mercenary monster slayer. Before you stands a war-torn, monster-infested continent you can explore at will. Your current contract? Tracking down Ciri — the Child of Prophecy, a living weapon that can alter the shape of the world. The Complete Edition contains the base game, offering a huge, over 100-hour long, open-world adventure, as well as both of its massive story expansions: Hearts of Stone & Blood and Wine worth an extra 50 hours of gameplay! It also comes with all additional content released for the game, alongside new items including swords, armor, and alternate outfits inspired by The Witcher Netflix series — and more! UPDATED FOR XBOX SERIES X|S Behold the dark fantasy world of the Continent like never before! The Xbox Series X|S version of The Witcher 3: Wild Hunt has been enhanced with numerous visual and technical improvements, including vastly improved level of detail, faster loading times, a range of community created and newly developed mods for the game, real-time ray tracing, and more — all implemented with the power of the new consoles in mind — as well as a built-in Photo Mode. PLAY AS A HIGHLY TRAINED MONSTER SLAYER FOR HIRE Trained from early childhood and mutated to gain superhuman skills, strength, and reflexes, witchers are a counterbalance to the monster-infested world in which they live. Gruesomely destroy foes as a professional monster hunter armed with a range of upgradeable weapons, mutating potions, and combat magic. Hunt down a wide variety of exotic monsters, from savage beasts prowling mountain passes to cunning supernatural predators lurking in the shadowy back alleys of densely populated cities. Invest your rewards to upgrade your weaponry and buy custom armor, or spend them on horse races, card games, fist fighting, and other pleasures life brings. EXPLORE A MORALLY AMBIGUOUS FANTASY OPEN WORLD Built for endless adventure, the massive open world of The Witcher sets new standards in terms of size, depth, and complexity. Traverse a fantastical open world: explore forgotten ruins, caves, and shipwrecks, trade with merchants and dwarven smiths in cities, and hunt across the open plains, mountains, and seas. Deal with treasonous generals, devious witches, and corrupt royalty to provide dark and dangerous services. Make choices that go beyond good & evil, and face their far-reaching consequences. TRACK DOWN THE CHILD OF PROPHECY Take on the most important contract of your life: to track down the child of prophecy, the key to saving or destroying this world. In times of war, chase down the child of prophecy, a living weapon foretold by ancient elven legends. Struggle against ferocious rulers, spirits of the wilds, and even a threat from beyond the veil – all hell-bent on controlling this world. Define your destiny in a world that may not be worth saving.

3.

Persona 4 Golden

Inabaa quiet town in rural Japan sets the scene for budding adolescence in Persona 4 Golden. A coming of age story that sets the protagonist and his friends on a journey kickstarted by a chain of serial murders. Explore meeting kindred spirits, feelings of belonging, and even confronting the darker sides of one's self. With an overall Metacritic score of 93 and a multitude of awards, fan-adored Persona 4 Golden stands as one of the finest RPGs ever made, delivering on enthralling storytelling and quintessential Persona gameplay. Key Features include: * Enjoy gameplay with variable framerates * Experience the world of Persona on PC in Full HD * Steam Achievements and Trading Cards * Choose between Japanese and English VO

4.

Dead Space

Developed exclusively for next generation consoles and PC, raising the level of horror and immersion to unprecedented heights for the franchise through stunning visuals, audio and controls powered by the Frostbite game engine. Fans will experience an improved story, characters, gameplay mechanics and more as they fight to survive a living nightmare aboard the desolate mining starship, the USG Ishimura, all while uncovering the dreadful mystery of what happened to the slaughtered crew and ship. In Dead Space, Isaac Clarke is an everyman engineer on a mission to repair a vast, sprawling starship, the USG Ishimura, only to discover something has gone horribly wrong. The ship's crew has been slaughtered and infected by some alien scourge...and Isaac's beloved partner, Nicole, is lost somewhere on board. Now Isaac is alone with only his tools and engineering skills as he attempts to uncover the nightmarish mystery of what happened aboard the Ishimura. Trapped with hostile creatures called "necromorphs", Isaac faces a battle for survival, not only against the escalating terrors of the ship, but his own crumbling sanity.

5.

Chained Echoes

Take up your sword, channel your magic or board your Mech. Chained Echoes is a 16-bit SNES style RPG set in a fantasy world where dragons are as common as piloted mechanical suits. Follow a group of heroes as they explore a land filled to the brim with charming characters, fantastic landscapes and vicious foes. Can you bring peace to a continent where war has been waged for generations and betrayal lurks around every corner? Chained Echoes is a story-driven game where a group of heroes travel around the vast continent of Valandis to bring an end to the war between its three kingdoms. In the course of their journey, they will travel through a wide array of diverse landscapes spanning from wind-tanned plateaus and exotic archipelagos to sunken cities and forgotten dungeons.

6.

Hi-Fi Rush

Feel the beat as wannabe rockstar Chai and his ragtag team fight against an evil megacorp with raucous rhythm combat! From Tango Gameworks comes Hi-Fi RUSH, an all-new action game where the world syncs to the music.

7.

Return to Monkey Island

It's been many years since Guybrush Threepwood was last locked in a battle of wits with his nemesis, the zombie pirate LeChuck. His true love, Elaine Marley, has turned her focus away from governing and Guybrush himself is adrift and unfulfilled, having never found the Secret of Monkey Island. Hip, young pirate leaders led by Captain Madison have shuffled the old guard from power, Melee Island has taken a turn for the worse, and famed businessman Stan has been imprisoned for 'marketing-related crimes'. Banter with old friends and new faces on familiar islands now under dangerous new leadership. Then, take to the high seas and explore the new and unknown as you work your way out of tough predicaments. Clever puzzles, bizarre situations, and devastating ripostes are all that stand between Guybrush and glory.

8.

Atari 50: The Anniversary Celebration

It has been five decades since a small team in Silicon Valley first combined their creativity, curiosity and passion into making video games and hardware. The result of their efforts was Atari, one of the most recognizable and enduring entertainment and pop culture brands in the world. Atari 50: The Anniversary Celebration takes players on an interactive journey through 50 years of video games via interviews with designers, developers and industry leaders, documentary footage, product design documents, high-resolution original artwork, and a specially-curated list of more than 90 playable games.

9.

Age of Empires II: Definitive Edition

Age of Empires II: Definitive Edition celebrates the 20th anniversary of one of the most popular strategy games ever with stunning 4K Ultra HD graphics, a new and fully remastered soundtrack, and brand-new content, "The Last Khans" with 3 new campaigns and 4 new civilizations. Explore all the original campaigns like never before as well as the best-selling expansions, spanning over 200 hours of gameplay and 1,000 years of human history. Head online to challenge other players with 35 different civilizations in your quest for world domination throughout the ages. Choose your path to greatness with this definitive remaster to one of the most beloved strategy games of all time.

10.

Persona 3 Portable

Terrible creatures lurk in the dark, preying on those who wander into the hidden hour between one day and the next. As a member of a secret school club, you must wield your inner power--Persona--and protect humanity from impending doom. Will you live to see the light of day?