| Evil Dead: The Game | SILT | F1 22 |
| --- | --- | --- |
| | | |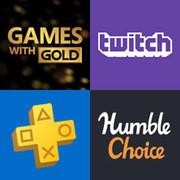 A frequently updated list of free games available from Epic Games Store, PS Plus, PS Now, Xbox Game Pass, Xbox Games With Gold, Twitch/Prime, Humble, EA/Origin Access, IndieGala, Steam, and other services.
1.

The Stanley Parable: Ultra Deluxe

The Stanley Parable: Ultra Deluxe is an expanded re-imagining of 2013's The Stanley Parable. You will play as Stanley, and you will not play as Stanley. You will make a choice, and you will become powerless. You are not here to win. The Stanley Parable is a game that plays you.

2.

Rogue Legacy 2

Rogue Legacy 2 is what you'd get if you mashed Rogue Legacy and a sequel together. Every time you die, your children will succeed you, and each child is unique. Your daughter might be a Colourblind Archer, and your son could be a Pacifistic Chef. Either way, one of them is getting conscripted.

3.

Citizen Sleeper

Live the life of an escaped worker, washed-up on a lawless station at the edge of an interstellar society. Inspired by the flexibility and freedom of Tabletop RPGs, explore the station, choose your friends, escape your past and change your future. LIFE ON ERLIN'S EYE An abandoned station on the edge of a system in crisis. Run down, chaotic, unruly, and alive—it was founded by idealists in the shadow of a corporate collapse. Now it is held together by anarchic alliances, ramshackle factions and a shared desire to be free from the gravity of corporate control. DO THE WORK. GET PAID. SURVIVE. Every cycle you get up and choose what to do with your time. Toil in the yards, or take a bar shift. Search the markets for rare components or grab some street food. Make or break alliances, uncover truths and escape those that hunt you. Learn to survive and ultimately thrive, one cycle at a time. TURN UP FOR YOUR FRIENDS The station plays host to characters from all walks of life, trying to eke out an existence among the stars. Salvagers, engineers, hackers, bartenders, street-food vendors, each has a history which brought them here. You choose which of them you wish to help, and together you will shape your future. ACCESS THEIR SECRETS Hack into the station's cloud to access decades of digital data, uncover new areas and unlock secrets. This is your unique power, and with it you can change your future. Corporate secrets, rogue AIs and troves of lost data await those willing to dive into the depths of the station's networks. YOU WERE MADE TO DIE Essen-Arp: to them you are just property, one more asset in a portfolio that stretches across the stars. You are the product of an abusive system, in a universe where humanity's expansion is marked by exploitation and extraction. Escape the makers of your decaying body, and chart your own path in a richly imagined, deeply relevant sci-fi world which explores ideas of precarity, personhood and freedom.

4.

This War of Mine: Final Cut

The Remastered Final Cut version for PS5 is finally here! In This War Of Mine, you do not play as an elite soldier, rather as a group of civilians trying to survive in a besieged city; struggling with a lack of food, medicine and constant danger from snipers and hostile scavengers. During the day you need to focus on maintaining your hideout: crafting, trading and taking care of your survivors. At night, take one of your civilians on a mission to scavenge for items that will help you stay alive. Make life-and-death decisions driven by your conscience. Try to protect everybody from your shelter or sacrifice some of them for longer-term survival. During war, there are no good or bad decisions; there is only survival. The sooner you realize that, the better. This War of Mine: Final Cut main features: - Inspired by real-life events - Control your survivors and manage your shelter - Craft weapons, alcohol, beds or stoves―anything that helps you survive - Make decisions―an often unforgiving and emotionally difficult experience - Randomized world and characters every time you start a new game - Charcoal-stylized aesthetics to complement the game's theme - All updates and free expansions added along the way to create the Final Cut

5.

OlliOlli World: VOID Riders

With its DLC expansion, Void Riders, the side-scrolling skateboarding platformer is taking things a step further with a cosmic theme and the addition of a whole bunch of aliens.

6.

F1 22

Enter the new era of Formula 1® in EA SPORTS™ F1® 22, the official videogame of the 2022 FIA Formula One World Championship™. Take your seat for a new season as redesigned cars and overhauled rules redefine race day, test your skills around the new Miami International Autodrome, and get a taste of the glitz and glamour in F1® Life. Race the stunning new cars of the Formula 1® 2022 season with the authentic lineup of all 20 drivers and 10 teams, and take control of your race experience with new immersive or broadcast race sequences. Create a team and take them to the front of the grid with new depth in the acclaimed My Team career mode, race head-to-head in split-screen or multiplayer, or change the pace by taking supercars from some of the sport's biggest names to the track in our all new Pirelli Hot Laps feature.

7.

MotoGP 22

Explore all the contents of the 2022 season in the MotoGP™ classes and in all the other categories. More than 120 riders, over 20 official circuits and all the excitement of the official championship are waiting for you. And if you want to take a leap into the past, over 70 historic champions will let you relive the best of MotoGP™ history.

8.

Floppy Knights

Hey there, humans. It's me, Carlton! Phoebe's most trusted friend... and coolest arm, if I do say so myself. Now, who's Phoebe, you ask? She's a talented inventor and programmer with a taste for the finer things in life and prefers to work smarter, not harder. Her mission: save up enough cash to finally move outta her parents' place. That's where I come in! Phoebe created me, her bionic arm and best friend, to help her achieve her goals. Not only am I brilliant, handsome, and funny, but I've also got a neat trick up my sleeve - I can take regular old floppy disks and turn them into these handy-dandy projections we call "Floppy Knights!" They're super useful for just about any task especially when it's time to throw down on the battlefield. With the help of our new buddies, the occasional odd job has turned into a steady side hustle... but things are getting a bit more intense than we bargained for! Bigger and badder monsters keep popping up and now Phoebe's not so sure about this whole "hero" role... but I'm getting ahead of myself. Let's chat about all the sweet stuff you'll get to do in the game!

9.

Road 96

Summer 1996. Today is the day! You hit the road. Adventure. Freedom. Escape. Run. Flee the Regime. Try to survive. On this risky road trip to the border, you'll meet incredible characters, and discover their intertwined stories and secrets in an ever-evolving adventure. But every mile opens up a choice to make. Your decisions will change your adventure, change the people you meet, maybe even change the world. There are thousands of roads across the authoritarian nation of Petria. Which one will you take?

10.

Souldiers

Fight for your freedom in a sprawling fantasy world caught between the living and the fallen. Hone your skills in a retro epic featuring puzzle platforming, metroidvania exploration and crunchy soulslike combat.