Publisher:

Nintendo

Release Date:

Jul 29, 2022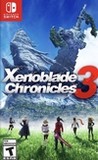 Summary:

"Fighting to liveand living to fight" - A brand new RPG adventure awaits in Xenoblade Chronicles 3. Bringing together the futures of Xenoblade Chronicles and Xenoblade Chronicles 2, this title will take players to the world of Aionios, home to two hostile nations. Keves: a nation where

"Fighting to liveand living to fight" - A brand new RPG adventure awaits in Xenoblade Chronicles 3. Bringing together the futures of Xenoblade Chronicles and Xenoblade Chronicles 2, this title will take players to the world of Aionios, home to two hostile nations. Keves: a nation where mechanical technology was developed. Their armies are composed of units consisting mainly of combat vehicles. They use units of small, mobile weapons operated by soldiers riding them.
Agnus: a nation strong in ether, a magical technology. Their forces are built around units that specialise in ether combat, and they fight with small, mobile, autonomous weapons that use ether technology.
Six soldiers hailing from these nations, will take part in a grand tale with life as its central theme.
Noah: One of the protagonists of Xenoblade Chronicles 3 and a solider of Keves. Noah is also an "off-seer" who mourns for soldiers who've lost their lives on the battlefield.
Lanz: An ally of Noah's who wields a great sword that doubles as a shield.
Eunie: A childhood friend of Noah and Lanz who has a sharp tongue and rough personality. She specialises in healing her allies in battle.
Mio: The other protagonist of this story, Mio is a soldier of Agnus and an off-seer like Noah.
Taion: A tactician who fights alongside Mio using his smarts and insight.
Sena: This soldier is an ally of Mio and Taion. Despite her petite figure, Sena wields immense physical strength!

…

Expand
| | |
| --- | --- |
| Buy on | |
Developer:

Monolith Soft

Genre(s):

Role-Playing

,

Action RPG

# of players:

No Online Multiplayer

Cheats:

On GameFAQs

Rating:

T
New York Daily News

Aug 16, 2022

It's, quite simply, one of the best titles on the Nintendo Switch, and one of the top role-playing games of 2022.

Xenoblade Chronicles 3 reflects all of the maturity accumulated throughout the last 12 years by a franchise that struggled to survive since its very first game, which was released by Nintendo in the West only after fan petitions. The game streamlines the action, gets rid of juvenile erotization and tells a story with heroes that talk like actual human beings, while simultaneously refining the exploration and world-building that already shone in its predecessors.

The cast, the weight of the story, and the freedom of party composition are the power trio that won me over.

God is a Geek

Jul 26, 2022

Xenoblade Chronicles 3 changes things up in a good way, offering a twist on the most unique combat out there. It's lengthy, engaging, warm, and probably the best RPG of the year. The best one yet, for sure.

I had an incredible amount of fun when playing Xenoblade Chronicles 3. This game is worth being mentioned next to the biggest and best titles in the genre and is one of the best exclusive Switch games ever.

Epic giant role-playing game that stays true to the tradition of the series and creates a distinctive world that shakes your foundations after umpteen hours of play.

Post Arcade (National Post)

Jul 26, 2022

Xenoblade Chronicles 3 earns a modest thumbs up. It's undeniably huge, delivering good bang for your RPG dollar, and has some interesting ideas on its mind. It's no Final Fantasy or Zelda, but fans of sophisticated combat and Japanese storytelling should be well served.
From everything that I've played so far in the game, I can and will strongly recommend this game to those out there. If you are looking into

From everything that I've played so far in the game, I can and will strongly recommend this game to those out there. If you are looking into buying the game, I'd also suggest purchasing the first 2 games as well, as in my opinion, Xenoblade Chronicles is the most underrated game franchise Nintendo owns.

…

Expand

This review contains spoilers

, click expand to view

.

无与伦比的收官之作,更出色的战斗系统,更爽快的战斗体验,出色的游戏

…

Expand

Best in the series by far, as it should! Masterpiece, they keep introducing new mechanics way past the opening chapters, this could be

Best in the series by far, as it should! Masterpiece, they keep introducing new mechanics way past the opening chapters, this could be complicated but everything is explained and the slow approach makes it feel like im learning and even evolving the characters. Many games i just put down, but this i cant put down.

Handheld or docked, i like both. It runs very good in my opinion and is contrary to many jrpgs a full fletched game. I love it.

…

Expand

Excellent experience, combat, setting, gameplay, story, characters, music, visuals.

Worth the hype. This game is absolutely a blast and an impressive technical achievement on the Switch. The game features a solid dub and

Worth the hype. This game is absolutely a blast and an impressive technical achievement on the Switch. The game features a solid dub and excellent cast of characters. The combat system is strong and the story is excellent. Buy it, love it.

…

Expand

Xenoblade Chronicles 3 tiene un genial dise?o artistico, mundos enormes y llenos de detalle, gráficos buenos, cinematicas excelentes, una gran

Xenoblade Chronicles 3 tiene un genial dise?o artistico, mundos enormes y llenos de detalle, gráficos buenos, cinematicas excelentes, una gran historia y un sistema de combate complejo pero unico.

…

Expand

Boring combat system where I am just sitting there with the controller in my hand waiting for the character to finish an auto attack. The

Boring combat system where I am just sitting there with the controller in my hand waiting for the character to finish an auto attack. The world looks bland but I can live with that.

…

Expand