Publisher:

Nintendo

Release Date:

Jun 10, 2022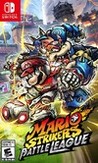 Summary:

[Also known as "Mario Strikers: Battle League Football"] Tackle, pass, and score in battle soccer with the Mushroom Kingdom gang. Introducing Strike, a 5-on-5, soccer-like sport with no rules—do whatever it takes to win! Get gritty and try to score the most goals by tackling enemies, using

[Also known as "Mario Strikers: Battle League Football"] Tackle, pass, and score in battle soccer with the Mushroom Kingdom gang. Introducing Strike, a 5-on-5, soccer-like sport with no rules—do whatever it takes to win! Get gritty and try to score the most goals by tackling enemies, using items, and pulling off score-boosting special shots. Super Mario series mainstays like Peach, Toad, and Yoshi put their cleats (and stats) to the pitch and will stop at nothing to score. Customize your characters with gear that can augment their stats and appearance. Take the carnage online* or pass the ball to players locally**—just look out for the electric fence.

Join an online club to push and shove your way up the ranks

Band together with up to 20 strikers online* and compete against other clubs for points. Find the right club for you, team up with friends, and bring your own striker style to the table. Strive to become the world's top club each season!

Pummel the pitch with up to 8 players

8 players can go for the goal on one Nintendo Switch system, with local wireless**, or online*. Bring along a secondary striker on the same system in online battles, too. Locally, 4 players on each team can go cleat-to-cleat in individual matches.


…

Expand
| | |
| --- | --- |
| Buy on | |
Developer:

Next Level Games, Nintendo

Genre(s):

Sports

,

Team

,

Soccer

,

Arcade

# of players:

Up to 8

Cheats:

On GameFAQs

Rating:

E10+
It's nowhere near as complex as Fifa, none of it is, but this game knows its strength is in the moment-to-moment arcade action and really wants you involved in that as much as possible with little distraction. For footie fans, this is a bit of a no-brainer. It's very much a crazy Nintendo version of that sport.

Next Level Games has perfected the new Mario Strikers to feel fresher and funnier than ever, focusing on offline and online multiplayer modes. The original soundtracks aren't so good, although these little issues are not remarkable due to its cool art style.

An experience that is both immediately fun and more technical for those who want it.

Once I got past those first matches, Battle League was a lot more fun. Every match is tense, fast-paced, and packed with action. You've got a layer of strategy with the gear, and every character plays differently. If you're looking for some Mario-style soccer, this game delivers. On the other hand, it's a thin offering for solo players. Online matches will greatly extend the life of this game, if you're looking for more challenges. I wish the teammate switching system wasn't so clunky. I'd also love a larger roster to choose from. But if you've got enough opponents, Mario Strikers: Battle League is a pretty great time.

Mario Strikers: Battle League is a promising start to filling the football boots of the long awaited sequel. Solid, liquid smooth performance on the pitch and that signature cocktail of personality and gritty football fun from Next Level Games. Where the game falters, at time of review, is the significant lack of offline content, supporting characters and lack of basic online features found in similar multiplayer games. If these issues are patched in, the base game is a solid package that sets the foundations for what could grow to be a more complete package.

Describing the game as chaotic in action is definitely apt, and for sheer speed this is one of the fastest 'Mario Sports' games to date. In a way, that goes against what you kind of expect to see from Nintendo, but in execution Mario Strikers goes all in on the fast and dirty game of Mushroom Kingdom soccer.

Though occasionally likable and basically inoffensive, Mario Strikers: Battle League struggles to build on its ideas and ends up feeling pretty undercooked as an experience.
AWESOME graphics. GODLIKE soundtrack. EXPRESSIVE animations in typical Next Level Games glory. Need I say more about this phenomenal game? BUY

AWESOME graphics. GODLIKE soundtrack. EXPRESSIVE animations in typical Next Level Games glory. Need I say more about this phenomenal game? BUY IT. NOW.

…

Expand

Animations/presentation top notch, gameplay fun and with as much depth as it has problems, content is basically non existent. All in all solid

Animations/presentation top notch, gameplay fun and with as much depth as it has problems, content is basically non existent. All in all solid but price tag way too high for what is offered. This is not a full price game. Or rather it shouldn't be.

…

Expand

The gameplay is mixed, many gimmicks and items from the previous game are gone, it's unbalanced and the controls desperately need remap

The gameplay is mixed, many gimmicks and items from the previous game are gone, it's unbalanced and the controls desperately need remap options, the OST has zero variety and most importantly, the game has little to no content especially if you didn't purchase the mediocre online deal, 10 characters and 5 courts for a 4 vs 4 game you play on 2 courts at once is inexcusable. don't let Nintendo's hardcore fans trick you, the game is far from good.

…

Expand

Unfinished. Lacking in both offline and online content, and gameplay is just a coin toss as it is way too chaotic because of the tiny size of

Unfinished. Lacking in both offline and online content, and gameplay is just a coin toss as it is way too chaotic because of the tiny size of field to accommodate 10 players and items flooding the field just puts this game at the mercy of luck and chaos. Very disappointed.

…

Expand

Not an very bad game overal but :

But the content is atrociously poor. The AI is pretty bad making the experience again CPU atrocious,Not an very bad game overal but :

But the content is atrociously poor.
The AI is pretty bad making the experience again CPU atrocious, don't expect to have fun solo or with your friends.
Special mention to the galactic mode where the the **** AI read any of your input instantly, don't expect to dodge anything or to have any successfull passing.

Main cons : The devs team makes an horrible work at programing the AI making the final experience totally garbage.

NB : If you find any review giving this game better then 5, you can erase the favorite for this website form your browser, really.

…

Expand

This review contains spoilers

, click expand to view

. This game has the most awful online mode I've every experienced. The whole gameplay is based around luck and not skill. When you score 3 goals your opponent immediately gets a star and a charge orb and scores 2 goals and you can't do anything about it. The goal keeper is either the best keeper ever or the worst you ever get, it's just random. The worst of all is that when you play alone your 3 other characters do nothing except running around like dumb **** And when you want to switch to a specific player that has a good positioning on the field you can't directly switch to the character, you have to go through every **** member in your team until you finally have the one you want.

When you play this strikers team mode bull**** you can't even choose from the whole character roster when your club hasn't enough members, the game rather chooses a random character with no equipment.

I almost broke my switch in half after losing 10 games in a row because of this stupid luck based bull****. I hate everything about this game and not even the CPU trophy mode **** is fun. I've beaten every team in this mode and collected every trophy and the only thing you unlock is a new armor. You not even get a special item or character after beating the "galatic mode". 0/10 I would not recommend this game to anyone.

…

Expand