Publisher:

Nintendo

Release Date:

Jun 24, 2022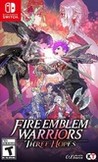 Summary:

Join Fire Emblem: Three Houses characters as you engage in massive battles across Fódlan Edelgard, Dimitri, Claude, and other Fire Emblem: Three Houses characters return to put their combat expertise on display as you revisit a war-torn Fódlan. Unleash devastating combos and striking special

Join Fire Emblem: Three Houses characters as you engage in massive battles across Fódlan Edelgard, Dimitri, Claude, and other Fire Emblem: Three Houses characters return to put their combat expertise on display as you revisit a war-torn Fódlan. Unleash devastating combos and striking special moves in action-packed, real-time combat. Cut through hordes of enemies as characters from the Fire Emblem: Three Houses game. Take down dozens of foes with Edelgard's axe or Dimitri's lance, or blast enemies from a distance with Claude's bow. Slash, swing, and spear your way to a brighter future for Fódlan.

…

Expand
| | |
| --- | --- |
| Buy on | |
Developer:

Nintendo, Koei Tecmo Games

Genre(s):

Strategy

,

Real-Time

,

General

,

Action

,

Beat-'Em-Up

,

3D

# of players:

No Online Multiplayer

Cheats:

On GameFAQs

Rating:

T
Digitally Downloaded

Jun 21, 2022

Fire Emblem Warriors: Three Hopes exists for people that liked Fire Emblem: Three Houses. It takes the narrative and characters of the original tactics RPG and provides an "alternative history" take on events, and that was an inspired way to allow the game to be both familiar while telling its own story. For anyone that fell in love with the characters the first time around, this approach makes this take very hard to put down, no matter how frequently you play the Musou releases. My overwhelming impression of this game is that it exudes confidence. Koei Tecmo's team had a clear vision on how to turn everything that people loved about Fire Emblem: Three Houses and turn it into an action game, and with the exception of one new character that turns out to be a Jar Jar Binks-level misfire, they have delivered on that vision. Or, to put it simply: people loved Three Houses, and for all the reasons that they did love that game, they will also love Three Hopes.

Comicbook.com

Jun 21, 2022

Fire Emblem Warriors: Three Hopes is not a mainline Fire Emblem title, and anyone expecting a 1-to-1 recreation is going to be disappointed, but it absolutely comes from the same lineage. If losing the cerebral, tactical piece-moving combat doesn't dull your interest – if that's not why you came to Fire Emblem in the first place – Fire Emblem Warriors: Three Hopes has enough of the franchise's DNA to satisfy. And in some ways, zooming across a battlefield while triggering abilities like Assassinate or Nosferatu seems more in line with the chaotic, war-torn battlefields of Fodlan than what came before. I might not go so far as to say that Fire Emblem Warriors: Three Hopes is my ideal for what Fire Emblem could and should be going forward, but it is quite frankly a lot closer to perfection than it has any right to be.

Thanks to its entertaining story and gameplay mechanics, we found Fire Emblem Warriors: Three Hopes to be a very fun and essential game for fans of the franchise. Of course, it has its weaknesses, such as an improvable multiplayer. However, it is really enjoyable as a musou game.

Three Hopes is one of the best musou spin-offs released to date, combining its tried-and-tested gameplay with a level of story depth that was missing in the Fire Emblem Warriors. Its sheer scope may be a bit much for players simply looking for a hack-and-slash action game, though.

Fire Emblem Warriors: Three Hopes is a gigantic adventure jam-packed with everything you love about the series. If you can open your heart to the Warriors gameplay, you'll find a terrific entry in the FE series awaits you.

Fire Emblem Warriors: Three Hopes has a lot going on both in combat and camp, and the result is a game that sometimes feels overstuffed but never fails to satisfy.

Metro GameCentral

Jun 21, 2022

Fire Emblem should be the perfect partner for Dynasty Warriors style action, but this incompetently made crossover squanders its potential on trite fan service and hollow gameplay.
Three Hopes is legit and the perfect companion for Three Houses!

It's so nice to revisit and see more of our favorite characters back inThree Hopes is legit and the perfect companion for Three Houses!

It's so nice to revisit and see more of our favorite characters back in action!

Highly recommended.

…

Expand

I must admit I have my doubts about this game because I love Fire Emblem Gameplay and I thought It would be a repetitive button smasher game

I must admit I have my doubts about this game because I love Fire Emblem Gameplay and I thought It would be a repetitive button smasher game but I was wrong, the strategy elements are there and all other elements that made Three Houses an amazing game are there too. It's incredible that they made new routes, the characters are back and the roster is incredible big. Thanks Nintendo!

…

Expand

「贝厨(?)」和风花雪月anti人打架打到外网来了真的笑死。那个批评刷10分评分的小朋友,你们这些刷差评又能好到哪里去?既然要争到头破血流就别恶人先告状,干的事都半斤八两只不过你们这些整天鬼哭狼嚎着换主角而打差评的人更幼稚罢了。

「贝厨(?)」和风花雪月anti人打架打到外网来了真的笑死。那个批评刷10分评分的小朋友,你们这些刷差评又能好到哪里去?既然要争到头破血流就别恶人先告状,干的事都半斤八两只不过你们这些整天鬼哭狼嚎着换主角而打差评的人更幼稚罢了。

In terms of plot: the protagonist of previous game (Three Houses) was completely reduced to a marginal person, hardly involved in any plot,

In terms of plot: the protagonist of previous game (Three Houses) was completely reduced to a marginal person, hardly involved in any plot, except that she was really strong, other aspects were like publicity fraud. The plot about Claude and Edelgard is like a denial and mockery of previous work.

In terms of gameplay: the previous game (Fire Emblem Warriors) can stabilize 60fps, this game can only have 30fps, even drop frames. The hit feels like hit paper, it's the worst level even in Warriors game. The restoration of previous game (Three Houses) is better, but not enough to make up for shortcomings.

My true score for this game is 5~6, but I give 1 to average those who give 10/10.

…

Expand

The plot is bad. The gameplay is repetitive and boring. The ending is unsatisfactory. 0/10 for such a terrible game

IS下一作火纹我真要等个正儿八经的测评再下手了,昨晚通关黄线,这库罗德不是一般的崩人设.简直就是在啪啪啪的打原作粉的脸.这故事IS写完我都不喷了,问题是毁完人设还毁剧情.光荣游戏性做的没问题,这波的锅在编剧

IS下一作火纹我真要等个正儿八经的测评再下手了,昨晚通关黄线,这库罗德不是一般的崩人设.简直就是在啪啪啪的打原作粉的脸.这故事IS写完我都不喷了,问题是毁完人设还毁剧情.光荣游戏性做的没问题,这波的锅在编剧