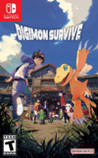 Summary:

Digimon Survive presents a hybrid visual novel and tactical RPG set in a mysterious world filled with dangerous monsters and deadly battles that will test your ability to survive. After getting lost on a school trip, Takuma Momozuka finds himself transported to a world inhabited by ferocious

Digimon Survive presents a hybrid visual novel and tactical RPG set in a mysterious world filled with dangerous monsters and deadly battles that will test your ability to survive. After getting lost on a school trip, Takuma Momozuka finds himself transported to a world inhabited by ferocious foes and new allies. Join Takuma and his friends as they fight their way back home. Craft your story in this thrilling visual novel with turn-based combat.

Key Features:

Rich Visual Novel Experience – Unfold a dark tale about friendship and survival that is jam-packed with exciting drama, a unique cast of characters, and potentially grim choices.
A Mysterious World – Explore otherworldly areas filled with hidden secrets and Digimon to recruit.
The Power Is Yours – Your choices affect gameplay: your bond with other NPCs, your Digimon's evolution, and the outcome of your adventure.
Thrilling & Strategic Gameplay – Persuade your opponents to join your team and evolve them to fight alongside you in battles thrilling turn-based battles.

…

Expand
| | |
| --- | --- |
| Buy on | |
Developer:

Bandai Namco Games, Hyde, WitchCraft

Genre(s):

Role-Playing

,

Trainer

,

Strategy

,

Turn-Based

,

Tactics

# of players:

No Online Multiplayer

Cheats:

On GameFAQs

Rating:

T
Please enter your birth date to watch this video:
You are not allowed to view this material at this time.
Digimon Survive - Official Announcement Trailer
Digitally Downloaded

Aug 8, 2022

This is a profoundly effective game. Digimon has always pushed a little harder than Pokémon to actually spin a meaningful story around the property, and Digimon Survive is not the first time the series has flirted with darker material. Thanks to excellently-flawed characters, clean tactical combat, and an eclectic but interesting blend of genres, Digimon Survive stands out as one of the most different and creative JRPGs you'll play this year.

Despite being pretty much a visual novel with some TRPG elements, Digimon Survive manages to be a captivating game for Digimon's fans and it just feels like a new season of the beloved anime.

Digimon Survive is one of the best visual novels to come out so far this year, with plenty of heart and tension to carry you through to the final act. Fans looking for an engaging story with well-written and presented characters that deal with life-and-death situations will enjoy the ride, while players focused on the combat will probably find that the game comes up short. Despite its sluggish, padded start, Digimon Survive is well worth the long wait.

Digimon Survive is quite an interesting and entertaining game but they made it too colorful for the its plot. This game stands out as one of the most different and creative JRPGs we will be playing this year.

In a few words, if you have the idea that Digimon Survive will have frantic encounters one after another, let me tell you that it is probably not going to meet your expectations. However, if visual novels and tactical combat are your thing, is probably that this game will like you, especially if you are a faithful follower of this great franchise.

Checkpoint Gaming

Aug 12, 2022

Despite its flaws and hardship, Digimon Survive is an absorbing visual novel. It is a more profound and darker story than generally expected from the Digimon world with captivating characters and storytelling. The exploration and tactical battles provide a break from the immense amount of dialogue, albeit not as fun and the latter feels like a lacklustre last-minute addition. Regardless, Digimon Survive is a great game for fans of the universe.

We Got This Covered

Aug 4, 2022

While Digimon Survive is certainly not the Digimon game that the fans have eagerly been awaiting, it is a strong contender on its own merits. The evolution of the horror to the isekai experience is well overdue and a welcome change in the monster battle RPG genre. Those who prefer the more mainstream, battle-heavy JRPG experience should give it a pass, while players who genuinely enjoy the Digimon franchise and are willing to try a new, more mature game should definitely give it a go. While it is lacking in gameplay and could use a rework in terms of explaining some of the more intricate elements, on the whole, Digimon Survive is an interesting and unique addition to the franchise that won't soon be forgotten.
Absolutely amazing game, feels like playing a season in the show and I look forward to how different choices affect my second playthrough,

Absolutely amazing game, feels like playing a season in the show and I look forward to how different choices affect my second playthrough, always loved reading books so I ain't got no issues with the mainly visual novel format lol

…

Expand

One of the best VNs on the market. If you're a fan of the genre this game is a must play.

Realmente es uno de los juegos más reconfortantes que he jugado, todos los personajes son super extrañables y esperas salvar a todos menos a

Realmente es uno de los juegos más reconfortantes que he jugado, todos los personajes son super extrañables y esperas salvar a todos menos a Shuuji jeje

…

Expand

Amazing game and content to further the saga of the greatest video game and TV show of the modern era!

Do not look to the bad reviews, this game is getting review bombing and they're not honest

This is a great game, that you will *not* like, if you don't like visual novel games or tactical RPGS. The art and music are gorgeous, as well

This is a great game, that you will *not* like, if you don't like visual novel games or tactical RPGS. The art and music are gorgeous, as well as the cutscenes, and you really feel like your actions have consequences, for both the main characters and yours and their digimon. I've been caught off guard by what my choices have led to more than once, and it reminds me of the thrill of those Goosebumps choose your scare books from when I was a kid. There is only one large flaw and two small ones:

Large
1) that the sprites of the digimon (especially champions ultimates etc) just don't do justice to how awesome and epic you would imagine these digimon look, and they end up looking like cheap mobile game characters in battle.

Small
1) Cheap exposition after certain crucial decisions such as "if only I had done something different, would something different have occurred. I can't help but feel there might have been another way" which just serves as a cheap setup to know you can't get a perfect ending on your first playthrough, which is typical of these branching strategy games.

2) The visual cursor is kind of clunky, so you're better off using the left and right triggers than the joystick, to investigate in settings.

In sum, It's a great buy IF you are going to enjoy the genre, which involves lots of reading and text. The story is genuinely engaging and creepy af, and worth the ride.

…

Expand

Era tanto bello digimon cyber sleuth perché rovinare un gioco solo 100 digimon niente esplorazione del mondo battaglie digimon in 2d meno male

Era tanto bello digimon cyber sleuth perché rovinare un gioco solo 100 digimon niente esplorazione del mondo battaglie digimon in 2d meno male che ho preso xenoblade chronicles 3 e non mi so fatto abbindolare da sti pagliacci che ci hanno messo 3 anni x fare sto gioco di menta . Ps lo ha preso un mio amico e me lo ha fatto provare lo ha ridato indietro e ha preso xenoblade anche lui

…

Expand