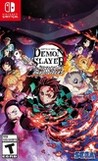 Summary:

It is the Taisho Period in Japan. Tanjiro, a kindhearted boy who sells charcoal for a living, finds his family slaughtered by a demon. To make matters worse, his younger sister Nezuko, the sole survivor, has been transformed into a demon herself. Though devastated by this grim reality,

It is the Taisho Period in Japan. Tanjiro, a kindhearted boy who sells charcoal for a living, finds his family slaughtered by a demon. To make matters worse, his younger sister Nezuko, the sole survivor, has been transformed into a demon herself. Though devastated by this grim reality, Tanjiro resolves to become a "demon slayer" so that he can turn his sister back into a human and kill the demon that massacred his family. A sorrowful tale of siblings in which the fates of humans and demons intertwine... begins now!

Features:

* Exhilarating Arena Battles Master the multitude of spectacular skills of a wide roster of characters from the anime, including Tanjiro and Nezuko , to overcome challengers in headto head battle, locally and online.

* Moving Drama Take up the sword of Tanjiro Kamado and guide his journey to become a Demon Slayer and turn his sister Nezuko back into a human.

* Thrilling Boss Battles Action and drama reach their peak in specially designed battles against powerful demons that will test Tanjiro's mettle.

* Original Anime Voice Cast The original English and Japanese casts of the anime return to bring their authentic portrayals to the game.

…

Expand
| | |
| --- | --- |
| Buy on | |
Developer:

CyberConnect2

Genre(s):

Action

,

Fighting

,

3D

# of players:

2

Cheats:

On GameFAQs

Rating:

T
NintendoWorldReport

Jun 14, 2022

Demon Slayer - Kimetsu no Yaiba - The Hinokami Chronicles is an incredibly impressive anime-inspired fighter. Visually, it surpasses my expectations of how I imagined it would play on the Nintendo Switch. If you are a fan of the series, this is a must-buy. If you aren't but a fan of anime-related fighters, you'll definitely enjoy this for the combat alone, and the Story Mode is deep enough for you to understand the characters, their relationships, and the journey they have been on. This is the first Demon Slayer video game, and developers CyberConnect2 have knocked it out of the park. I am very excited about the DLC and any possible further instalments.

Hobby Consolas

Jun 9, 2022

Kimetsu no Yaiba arrives on the Nintendo Switch with a fantastic port, so much that you'll have to look carefully to find any real difference with the other versions of the game. Portability and the fact that it's the "complete" version (with all post-launch characters) makes the Switch version one we would recommend without a doubt.

Demon Slayer - Kimetsu no Yaiba - The Hinokami Chronicles is a surprisingly well done port of a pretty good game. Given all that The Hinokami Chronicles ends up accomplishing, hopefully this heralds the start of many more high quality games based on the IP to come.

Overall, my experience with Demon Slayer -Kimetsu no Yaiba- the Hinokami Chronicles was a pleasant one. I greatly enjoyed the story and I am looking forward to its continuation, though hopefully with more actual gameplay in place of cinematics. Hopefully the battle system will also get some more attention to spice it up a little. Aside from the boss fights, the combat itself was pretty easy compared to other fighters I've played.

Jeuxvideo.com

Jun 16, 2022

This hybrid version of the adventures of Tanjiro and the demon slayers provides the essentials in terms of gameplay, content and performance. The title of Sega, Aniplex and CyberConnect2 even allows itself the luxury of aligning a complete roster of Day One fighters. The video game adaptation of Demon Slayer on Nintendo Switch is recommended for fans of the manga and / or anime who have not yet yielded to the call of fan service.

Demon Slayer: Kimetsu no Yaiba – The Hinokami Chronicles is as good as it ever was. The Switch version doesn't add anything for people who have the game on other systems. Naruto: Ultimate Ninja Storm fans, who might be excited for another similar game, should dial their content expectations way back. Demon Slayer: Kimetsu no Yaiba fans don't need their teeny narrative summarized, the way Naruto fans might've wanted theirs. Merging these two franchises wasn't the right decision. It would've been the definition of "a renter" in the 90s.
Demon Slayer was a great anime and the game is just as great. The game looks very nice and runs smooth on the Switch. Controls are good and

Demon Slayer was a great anime and the game is just as great. The game looks very nice and runs smooth on the Switch. Controls are good and I really like the story and gameplay. Lots of fun here.

…

Expand

Yay I'm first congratulations me this review has to be 75 characters longgg

Good-
Flashy and satisfying combat system that leads to amazing looking battles. Packed with loads of content and some amazing single playerGood-
Flashy and satisfying combat system that leads to amazing looking battles. Packed with loads of content and some amazing single player modes. Loads of content that fans of the manga and anime will enjoy.

Bad-
The story mode is a very rough intro to the series and does not stand alone well. While combat is fun, it lacks depth and eventually becomes a bit boring

Thoughts-
If you're not a fan, and do end up with this game anyhow, it's still a fun time. The brawling combat is great, the exploration is mostly linear but rewarding, the world depicted in the game is intriguing and begs more familiarity, the voice acting, music, and graphics are all great, and there's a whole lot of content to chew through to boot. And if you ARE a fan? It's hard to imagine a better video game adaptation of the beloved property than Demon Slayer, Demon Slayer – Kimetsu no Yaiba – The Hinokami Chronicles ends up being. Hopefully this heralds the start of many more high quality games based on the IP to come.

…

Expand