| AI: The Somnium Files - nirvanA Initiative | Monster Hunter Rise: Sunbreak | Fire Emblem Warriors: Three Hopes |
| --- | --- | --- |
| | | |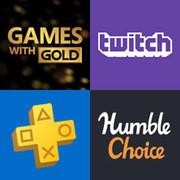 A frequently updated list of free games available from Epic Games Store, PS Plus, PS Now, Xbox Game Pass, Xbox Games With Gold, Twitch/Prime, Humble, EA/Origin Access, IndieGala, Steam, and other services.
1.

Cuphead in the Delicious Last Course

Another helping of classic Cuphead action awaits you in Cuphead - The Delicious Last Course! Brothers Cuphead and Mugman are joined by the clever, adventurous Ms. Chalice for a rollicking adventure on a previously undiscovered Inkwell Isle! With the aid of new weapons, magical charms, and Ms. Chalice's unique abilities, players will take on a new cast of fearsome, larger than life bosses to assist the jolly Chef Saltbaker in Cuphead's final challenging quest!

2.

Teenage Mutant Ninja Turtles: Shredder's Revenge

With Bebop and Rocksteady assaulting Channel 6 and stealing super gnarly devices to support Krang and Shredder's latest twisted plan, Teenage Mutant Ninja Turtles: Shredder's Revenge sees the Turtles battling across a righteous range of timeless TMNT locations. From Manhattan and Coney Island, to city rooftops and dank sewers, help the fearsome foursome trounce Foot Soldiers, Triceraton Warriors, and Rock Troops all the way to Dimension X! Enjoy stunning full-color pixel art graphics and a vintage TMNT vibe that will rock you straight back to the awesome 80s. Every character, vehicle, weapon, item, and background is directly inspired by the 1987 TV show, making you feel like you hopped into the television -- with a dope mix of killer humor and action-packed adventures!

3.

13 Sentinels: Aegis Rim

Vanillaware, the storytellers behind Odin Sphere and Dragon's Crown, craft a sci-fi mystery epic spanning thirteen intertwining stories. Uncover the truth and delve into a 2D sidescrolling adventure featuring gorgeous art and environments. Then, battle the kaiju in fast-paced, top-down combat. Customize the Sentinels with an arsenal of mechsuit weaponry, and fight to defend humanity! A departure from the studio's traditional fantasy style, the game takes place in a modern setting punctuated with giant mechs. Although the world may be bleak, Vanillaware's signature artistic shine and gorgeous aesthetics will bring the characters and story of 13 Sentinels to life. CHARACTERS: JURO KURABE A mild-mannered young high school student trying to live a normal life in the 80s. Rarely excited, he is fond of campy old Sci-Fi movies, with their giant robots and space invasions. But it seems like everyone in his life is trying to manipulate him for their own ominous ends... IORI FUYUSAKA She believes she's an ordinary high school girl, with dreams and crushes and a sweet tooth. However, she finds herself at the center of a massive conspiracy, called on to stop an apocalypse before the world is doomed. What she's not sure about is: can she really answer the call? EI SEKIGAHARA A stoic young man with amnesia, Ei finds himself next to a dead body without any memories of his past. Declared a boy "from another dimension", he's constantly pursued by armed gunmen in black suits, and often finds himself in intense life-or-death situations. Through investing the clues and people in 1985, he chases the truth beyond his lost memories... KEITARO MIURA A dutiful young soldier from 1945, fiercely dedicated to defending his country. He'd lay down his life if it meant saving even a single soul. Chosen as part of a secret military program to pilot a new weapon called a "Sentinel", Miura soon discovers that his true enemies lie beyond World War II... MEGUMI YAKUSHIJI A shy, composed girl of few words, with a nurturing domestic side. While she's devoted to her beloved, Juro, he himself has lost all memory of their past relationship. Goaded on by a mysterious talking cat, she agrees to a "contract" -- willing to go to any length to restore the boy she loves. NATSUNO MINAMI A perky, friendly girl on her high school's track team who loves a good Sci-Fi story. When she discovers a small robot hiding in the school, it seems like a story out of one of her favorite movies. However, she finds herself drawn into a massive, apocalyptic conspiracy in which the dangers of her favorite shows becomes disturbingly real. NENJI OGATA A high school punk with a heart of gold. He prefers to punch first and ask questions later, so when he gets involved in a convoluted conspiracy, most of the geek-talk goes over his head. Still, he's determined to bust through and save the girl -- even if he's resigned to her thinking he's just another thug. RENYA GOUTO A cold, brilliant young man who will use any means necessary to find the truth. Gouto processes information and startling revelations with a calm, ready intelligence that baffles (or outpaces) the adults around him. He's no villain, but he knows what's at stake, and what must be done. RYOKO SHININOME An aloof agent desperate to prove her worth to her unrequited love (and mentor) Tetsuya Ida. A mission gone wrong left Ryoko with traumatic brain damage, and dependent on a medicine of unclear origins. Still, she fights through the mental fog and pain to untangle the conspiracies... SHU AMIGUCHI An easygoing late-80s high school playboy, quick to make friends and quick to flirt. Tries not to take life too seriously, whether it's on his side or not. But when his TV turns on by itself, and an idol starts talking to him through it, begging for his help unraveling a mystery...he rolls with it as best he can. TAKATOSHI HIJIYAMA A confident young Japanese soldier in the 1940s, displaced from his home and dropped into a city both foreign and familiar. Adrift, old-fashioned, and out of place, he struggles to make sense of all the changes in his world...and then, after months of living as a solitary vagrant, he finds the young man responsible for uprooting his life. TOMI KISARAGI A flippant, shy teenager. She often hangs out with her gal pals after school, getting snacks and chatting like any other, but she seems to know more than she lets on. Determined to investigate the mysteries of her fate, she surreptitiously follows whatever lead she can, only to discover even greater peril awaiting her... YUKI TAKAMIYA A surly delinquent who (reluctantly) infiltrates the school as a spy to save her best friend. Despite her disdain for her underhanded allies, she stubbornly seeks the truth when everyone else has something to hide. Tough and caustic, but she's got a protective streak and a sharp mind.

4.

The Stanley Parable: Ultra Deluxe

The Stanley Parable: Ultra Deluxe is an expanded re-imagining of 2013's The Stanley Parable. You will play as Stanley, and you will not play as Stanley. You will make a choice, and you will become powerless. You are not here to win. The Stanley Parable is a game that plays you.

5.

Neon White

Neon White is a lightning fast first-person action game about exterminating demons in Heaven. You are White, an assassin handpicked from Hell to compete with other demon slayers for a chance to live permanently in Heaven. The other assassins seem familiar, though… did you know them in a past life? Features: • You play as Neon White, an assassin plucked from Hell to compete with other demon slayers for a shot at redemption. • Collect "Soul Cards" to attack your foes or discard them to use unique movement abilities. • Compete for the best times by cleverly combining cards to discover massive shortcuts. • Uncover Heaven's mysteries by getting to know the other assassins… did you know them in a past life?

6.

The Last Friend

Seamlessly blending both the arcade action of games like Streets of Rage with the strategical thinking of titles like Plants vs. Zombies, The Last Friend quickly becomes a battle of man and canine standing stalwart against the end of the world. The Last Friend brings in a horde of super-powered dogs to help players drive back the violent mutants and gangs of the apocalypse in a fun, fast-paced hybrid of Brawler and Tower Defense. You'll work your way across a vast dystopian, wasteland rescuing doggos who will in turn help you save the world in your roving battle station of conversion van that would make Harry from Dumb and Dumber incredibly jealous.

7.

Monster Hunter Rise: Sunbreak

Monster Hunter Rise: Sunbreak is an expansion to the original Monster Hunter Rise. Featuring improved gameplay and nimble-feeling additions to combat mechanics, unique new monsters and hunting locales, and a new difficulty level in the form of Master Rank quests. As the hunter who saved Kamura from calamity, you must now journey to the far-off reaches of Elgado, an outpost near a Kingdom beset by a sinister new nemesis—the elder dragon Malzeno! Kamura Village is finally at peace, having fought off an onslaught of monsters attacks known as the Rampage. That hard-earned peace is disrupted by the unexpected appearance of the wolf-like monster Lunagaron in the Shrine Ruins. In the Shrine Ruins, the hunter meets Fiorayne, a knight of the Royal Order. Fiorayne asks for the hunter's help in investigating why monsters from the Kingdom are becoming violently aggressive and invading other territories, including Kamura. United in mission, they set off for the far-off outpost of Elgado.

8.

AI: The Somnium Files - nirvanA Initiative

Six years ago, the right half of a corpse was discovered under mysterious circumstances. The left half was never found...until six years later, when it was discovered completely fresh with no signs of decay, as though the victim was alive until just recently. Now, newly-appointed Special Agent Mizuki and her AI partner Aiba are tasked to solve the bizarre Half Body serial killings...

9.

Toodee and Topdee

A cosmic turbulence caused the 2D Platformer and the Top-Down Puzzler dimensions to merge! Switch between Toodee and Topdee and their unique perspectives to overcome hard-as-nails challenges, solve mind-melting puzzles and defeat huge bosses. Oh, and there's a co-op mode!

10.

Nobody Saves the World

When the ancient Calamity re-awakens, who can save the world? Nobody! (That's you, you're Nobody.) Master the art of transformation to become a Slug, Ghost, Dragon, and more in this new take on Action RPGs from the creators of Guacamelee! Complete quests to discover and swap between 15+ varied and distinct Forms. Mix and match abilities in unexpected ways to unlock and complete even MORE challenging quests. Explore a vast overworld - on your own or with a friend online - while clearing shape-shifting dungeons in an effort to stop The Calamity and save the world!