| Sonic Origins | DNF Duel | F1 22 |
| --- | --- | --- |
| | | |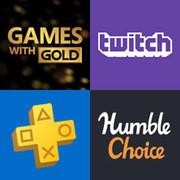 A frequently updated list of free games available from Epic Games Store, PS Plus, PS Now, Xbox Game Pass, Xbox Games With Gold, Twitch/Prime, Humble, EA/Origin Access, IndieGala, Steam, and other services.
1.

The Stanley Parable: Ultra Deluxe

The Stanley Parable: Ultra Deluxe is an expanded re-imagining of 2013's The Stanley Parable. You will play as Stanley, and you will not play as Stanley. You will make a choice, and you will become powerless. You are not here to win. The Stanley Parable is a game that plays you.

2.

Unpacking

Unpacking is a zen game about the familiar experience of pulling possessions out of boxes and fitting them into a new home. Part block-fitting puzzle, part home decoration, you are invited to create a satisfying living space while learning clues about the life you're unpacking. Over the course of eight house moves, you are given a chance to experience a sense of intimacy with a character you never see and a story you're never told.

3.

OlliOlli World: VOID Riders

With its DLC expansion, Void Riders, the side-scrolling skateboarding platformer is taking things a step further with a cosmic theme and the addition of a whole bunch of aliens.

4.

Kombinera

Control multiple colored balls simultaneously in this brain-bending puzzle platformer. It's up to you to combine every ball and complete each perilous level. Can you solve them all? Can you save King Kombine from the Kave of Kaos? Core Features: -Progress through 300 increasingly complex puzzles. -Encounter new hazards and abilities. -Replay levels to achieve best times. -Grab collectibles to unlock new levels -Vibrant neon visual style accompanied by ambient electronic audio tracks. -In-depth, complex, heart-tugging emotional storyline. -Accessible controls.

5.

This War of Mine: Final Cut

The Remastered Final Cut version for PS5 is finally here! In This War Of Mine, you do not play as an elite soldier, rather as a group of civilians trying to survive in a besieged city; struggling with a lack of food, medicine and constant danger from snipers and hostile scavengers. During the day you need to focus on maintaining your hideout: crafting, trading and taking care of your survivors. At night, take one of your civilians on a mission to scavenge for items that will help you stay alive. Make life-and-death decisions driven by your conscience. Try to protect everybody from your shelter or sacrifice some of them for longer-term survival. During war, there are no good or bad decisions; there is only survival. The sooner you realize that, the better. This War of Mine: Final Cut main features: - Inspired by real-life events - Control your survivors and manage your shelter - Craft weapons, alcohol, beds or stoves―anything that helps you survive - Make decisions―an often unforgiving and emotionally difficult experience - Randomized world and characters every time you start a new game - Charcoal-stylized aesthetics to complement the game's theme - All updates and free expansions added along the way to create the Final Cut

6.

DNF Duel

Action fighting to the extreme. Enter the new beat 'em up world of Arad as your favorite character from the esteemed Dungeon and Fighter franchise. One of the most popular and widely played RPGs in the world, Dungeon and Fighter is now back as a 2.5D action fighting game. Choose from 10 charming characters, each with their own distinct skills and personalities. Outsmart, outplay, or downright beat up your opponents and become the master of the Ultimate Will.

7.

Road 96

Summer 1996. Today is the day! You hit the road. Adventure. Freedom. Escape. Run. Flee the Regime. Try to survive. On this risky road trip to the border, you'll meet incredible characters, and discover their intertwined stories and secrets in an ever-evolving adventure. But every mile opens up a choice to make. Your decisions will change your adventure, change the people you meet, maybe even change the world. There are thousands of roads across the authoritarian nation of Petria. Which one will you take?

8.

F1 22

Enter the new era of Formula 1® in EA SPORTS™ F1® 22, the official videogame of the 2022 FIA Formula One World Championship™. Take your seat for a new season as redesigned cars and overhauled rules redefine race day, test your skills around the new Miami International Autodrome, and get a taste of the glitz and glamour in F1® Life. Race the stunning new cars of the Formula 1® 2022 season with the authentic lineup of all 20 drivers and 10 teams, and take control of your race experience with new immersive or broadcast race sequences. Create a team and take them to the front of the grid with new depth in the acclaimed My Team career mode, race head-to-head in split-screen or multiplayer, or change the pace by taking supercars from some of the sport's biggest names to the track in our all new Pirelli Hot Laps feature.

9.

Sonic Origins

Relive the classic collected adventures of Sonic The Hedgehog, Sonic The Hedgehog 2, Sonic 3 & Knuckles, and Sonic CD in the newly remastered Sonic Origins! From the iconic Green Hill Zone to the treacherous Death Egg Robot, you'll speed down memory lane to thwart the sinister plans of Doctor Robotnik in polished high definition! This latest version includes new areas to explore, additional animations, and a brand new Anniversary mode! Explore the classic Sonic titles in high-resolution, with all-new opening and ending animations for each title! New Unlockables: Complete various missions to collect coins to unlock new content, challenges, and Special Stages through the Museum. Classic and Anniversary Mode. Choose to Spin Dash your way through the numerous zones in Classic mode with the game's original resolution and limited lives, or the new Anniversary mode with unlimited lives and revamped fullscreen resolution.

10.

Shadowrun Trilogy

The Shadowrun Trilogy comprises 3 cult tactical RPG games taking place in a dystopian cyberpunk future in which magic has re-awakened, bringing back to life creatures of high fantasy. Initially created as a tabletop RPG over 30 years ago, this one-of-a-kind setting that has gained a huge cult following during the past three decades. Shadowrun Returns: The unique cyberpunk-meets-fantasy world of Shadowrun has gained a huge cult following since its creation over 30 years ago. Nearly 10 years ago, creator Jordan Weisman returned to the world of Shadowrun, modernizing this classic game setting as a single player, turn-based tactical RPG. In the urban sprawl of the Seattle metroplex, the search for a mysterious killer sets you on a trail that leads from the darkest slums to the city's most powerful megacorps. You will need to tread carefully, enlist the aid of other runners, and master powerful forces of technology and magic in order to emerge from the shadows of Seattle unscathed. Shadowrun Dragonfall - Director's Cut - In 2012, magic returned to our world, awakening powerful creatures of myth and legend. Among them was the Great Dragon Feuerschwinge, who emerged without warning from the mountains of Germany, unleashing fire, death, and untold destruction across the countryside. It took German forces nearly four months to finally shoot her down - and when they did, their victory became known as The Dragonfall. It's 42 years later - 2054 - and the world has changed. Unchecked advances in technology have blurred the line between man and machine. Elves and trolls walk among us, ruthless corporations bleed the world dry, and Feuerschwinge's reign of terror is just a distant memory. Germany is splintered - a stable anarchy known as the "Flux State" controls the city of Berlin. It's a place where power is ephemeral, almost anything goes, and the right connections can be the difference between success and starvation. For you and your team of battle-scarred shadowrunners, there's no better place to earn a quick payday. Now, a new threat is rising, one that could mean untold chaos and devastation. One that soon has you and your team caught on the wrong side of a deadly conspiracy. The only clue: whispers of the Dragonfall. Rumors that the Great Dragon Feuerschwinge may still be alive, waiting for the right moment to return… Shadowrun Hong Kong - Extended Edition HONG KONG. A stable and prosperous port of call in a sea of chaos, warfare, and political turmoil. The Hong Kong Free Enterprise Zone is a land of contradictions - it is one of the most successful centers of business in the Sixth World, and home to one of the world's most dangerous sprawl sites. A land of bright lights, gleaming towers, and restless spirits where life is cheap and everything is for sale. As an ex-con living in Seattle, you try to make an honest living but when your foster begs you to meet him in China, things turn grim and you find out the police are trying to arrest you. And by arrest, they mean to kill you on sight! Build your team of Shadowrunners, mercenaries with big personalities who can fight using mystical or technical powers, and turn the tables on the elite corporate and the police. Through real-time exploration and turn-based action, you will be met with deadly conspiracy, corporate greed, Triads, social segregation, and gang wars.