| Forspoken | Hogwarts Legacy | Dead Space |
| --- | --- | --- |
| | | |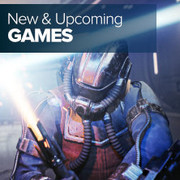 Find release dates, trailers, and scores for major upcoming and recent videogame releases for all platforms, updated weekly.
1.

The Witcher 3: Wild Hunt - Complete Edition

You are Geralt of Rivia, mercenary monster slayer. Before you stands a war-torn, monster-infested continent you can explore at will. Your current contract? Tracking down Ciri — the Child of Prophecy, a living weapon that can alter the shape of the world. The Complete Edition contains the base game, offering a huge, over 100-hour long, open-world adventure, as well as both of its massive story expansions: Hearts of Stone & Blood and Wine worth an extra 50 hours of gameplay! It also comes with all additional content released for the game, alongside new features and items, including a built-in Photo Mode, swords, armor, and alternate outfits inspired by The Witcher Netflix series — and more! UPDATED FOR PLAYSTATION 5 Behold the dark fantasy world of the Continent like never before! This edition of The Witcher 3: Wild Hunt has been enhanced with numerous visual and technical improvements, including vastly improved level of detail, faster loading times, a range of community created and newly developed mods for the game, real-time ray tracing, 3D audio support, and more — all implemented with the power of the PlayStation 5 in mind. The game also utilizes the unique features of the Dual Sense controller, with its advanced haptics and adaptive triggers, letting you immerse yourself in the adventure even more! PLAY AS A HIGHLY TRAINED MONSTER SLAYER FOR HIRE -Trained from early childhood and mutated to gain superhuman skills, strength, and reflexes, witchers are a counterbalance to the monster-infested world in which they live. -Gruesomely destroy foes as a professional monster hunter armed with a range of upgradeable weapons, mutating potions, and combat magic. -Hunt down a wide variety of exotic monsters, from savage beasts prowling mountain passes to cunning supernatural predators lurking in the shadowy back alleys of densely populated cities. -Invest your rewards to upgrade your weaponry and buy custom armor, or spend them on horse races, card games, fist fighting, and other pleasures life brings. EXPLORE A MORALLY AMBIGUOUS FANTASY OPEN WORLD -Built for endless adventure, the massive open world of The Witcher sets new standards in terms of size, depth, and complexity. -Traverse a fantastical open world: explore forgotten ruins, caves, and shipwrecks, trade with merchants and dwarven smiths in cities, and hunt across the open plains, mountains, and seas. -Deal with treasonous generals, devious witches, and corrupt royalty to provide dark and dangerous services. -Make choices that go beyond good & evil, and face their far-reaching consequences. TRACK DOWN THE CHILD OF PROPHECY -Take on the most important contract of your life: to track down the child of prophecy, the key to saving or destroying this world. -In times of war, chase down the child of prophecy, a living weapon foretold by ancient elven legends. -Struggle against ferocious rulers, spirits of the wilds, and even a threat from beyond the veil – all hell-bent on controlling this world. -Define your destiny in a world that may not be worth saving.

2.

God of War: Ragnarok

The freezing winds of Fimbulwinter have come to Midgard, making survival for Kratos, Atreus, and Mimir in the Norse wilds even more challenging than before. Kratos, still bearing the knowledge of his past mistakes, wants to spare Atreus the bloody lessons he learned from his conflict with gods. He wants to keep his son safe, above all, and their confrontation with Baldur has vindicated the belief that only tragedy will come from further entanglements with the Aesir. Together, Kratos and Atreus will have to make a choice about which path they will take. Whatever they choose will define the fate of all those living in the Nine Realms as Ragnarok approaches. Whatever your choice of combat strategy, the enemies that await in God of War Ragnar?k will be ready. The realms have grown harsher, and a whole host of new creatures from across Norse mythology will test your skills. God of War Ragnar?k will take you to the previously unreachable Vanaheim, Svartalfheim, and Asgard - as well as to new areas from locations featured in the last game. Exploring the realms will take you everywhere from verdant, otherworldly jungles to intricate subterranean mining networks. This next installment in the series will bring you a more diverse, beautiful, and mysterious variety of locations than in any other God of War game.

3.

Dead Space

Developed exclusively for next generation consoles and PC, raising the level of horror and immersion to unprecedented heights for the franchise through stunning visuals, audio and controls powered by the Frostbite game engine. Fans will experience an improved story, characters, gameplay mechanics and more as they fight to survive a living nightmare aboard the desolate mining starship, the USG Ishimura, all while uncovering the dreadful mystery of what happened to the slaughtered crew and ship. In Dead Space, Isaac Clarke is an everyman engineer on a mission to repair a vast, sprawling starship, the USG Ishimura, only to discover something has gone horribly wrong. The ship's crew has been slaughtered and infected by some alien scourge...and Isaac's beloved partner, Nicole, is lost somewhere on board. Now Isaac is alone with only his tools and engineering skills as he attempts to uncover the nightmarish mystery of what happened aboard the Ishimura. Trapped with hostile creatures called "necromorphs", Isaac faces a battle for survival, not only against the escalating terrors of the ship, but his own crumbling sanity.

4.

Monster Hunter Rise

Rise to the challenge and join the hunt! Set in the ninja-inspired land of Kamura Village, explore lush ecosystems and battle fearsome monsters to become the ultimate hunter. It's been half a century since the last calamity struck, but a terrifying new monster has reared its head and threatens to plunge the land into chaos once again. Hunt solo or in a party with friends to earn rewards that you can use to craft a huge variety of weapons and armor. Brand new gameplay systems such as the high-flying 'Wire Action' and your canine companion 'Palamute' will add exciting new layers to the already robust combat that Monster Hunter is known for.

5.

Tactics Ogre: Reborn

Based on the 2010 release, the game features improved graphics and sound, as well as updated game design, bringing to life a new Tactics Ogre that remains true to its roots. Tactics Ogre veterans will experience a game that surpasses their fondest memories, while players new to Tactics Ogre will discover a game unlike any they've ever played. Reborn and deeper than ever, the game enables players to immerse themselves in the world and intrigue of Tactics Ogre like never before. The Valerian Isles, jewels of the Obero Sea. Long a center of naval commerce, the people of the isles struggled throughout history for dominion over her shores. Finally there rose a man to put an end to this conflict: Dorgalua Oberyth. But history would know him as the "Dynast-King." King Dorgalua strove to stamp out the hatred among the people of the isles, and for fully half a century, Valeria knew prosperity. Yet upon the king's death, civil war erupted anew as three factions vied for control: the Bakram, who comprised much of Valeria's nobility; the Galgastani, whose people made up the majority of the isles' population; and the Walister, who numbered but few. The isles were soon divided between the Bakram and Galgastani, and an uneasy peace settled across the land. Yet none believed the calm would last...

6.

Atari 50: The Anniversary Celebration

It has been five decades since a small team in Silicon Valley first combined their creativity, curiosity and passion into making video games and hardware. The result of their efforts was Atari, one of the most recognizable and enduring entertainment and pop culture brands in the world. Atari 50: The Anniversary Celebration takes players on an interactive journey through 50 years of video games via interviews with designers, developers and industry leaders, documentary footage, product design documents, high-resolution original artwork, and a specially-curated list of more than 90 playable games.

7.

Return to Monkey Island

It's been many years since Guybrush Threepwood was last locked in a battle of wits with his nemesis, the zombie pirate LeChuck. His true love, Elaine Marley, has turned her focus away from governing and Guybrush himself is adrift and unfulfilled, having never found the Secret of Monkey Island. Hip, young pirate leaders led by Captain Madison have shuffled the old guard from power, Melee Island has taken a turn for the worse, and famed businessman Stan has been imprisoned for 'marketing-related crimes'. Banter with old friends and new faces on familiar islands now under dangerous new leadership. Then, take to the high seas and explore the new and unknown as you work your way out of tough predicaments. Clever puzzles, bizarre situations, and devastating ripostes are all that stand between Guybrush and glory.

8.

Valkyrie Profile: Lenneth

The Gods are at War. You must gather the souls of fallen warriors and train them to fight at Odin's side. From the creators of STAR OCEAN The Second Story, Valkyrie Profile sets new standards for role playing games on the PlayStation game console. - Epic storyline set in the world of Norse mythology - Multiple endings and 50+ hours of gameplay. - Intricate character development. - Innovative combo-driven combat system. - Stunning hand-painted backdrops and animated visuals. - Spectacular special effects.

9.

Ys VIII: Lacrimosa of DANA

Ys returns with a brand new adventure for the first time in 8 years! Adol awakens shipwrecked and stranded on a cursed island. There, he and the other shipwrecked passengers he rescues form a village to challenge fearsome beasts and mysterious ruins on the isolated island. Amidst this, Adol begins to dream of a mysterious blue-haired maiden living in an unknown world. Join Adol as he unravels the riddle of the cursed isle and the blue-haired maiden Dana in Ys VIII: Lacrimosa of Dana! FEATURES: An Epic Tale - Follow Adol on his latest adventure and uncover the mysteries of the cursed island. Party On! - Change your playable character on-the-fly as you battle ferocious foes in lighting-fast combat. Another Side - Unravel the mystery of the blue-haired maiden Dana through her unique gameplay sections. It Takes a Village! - Rescue your fellow shipwrecked passengers and bring them to your village where they will provide valuable services.

10.

Marvel's Midnight Suns

After centuries of sleep, Lilith, Mother of Demons, has been revived by Hydra through a twist of dark magic and science. Lilith stops at nothing to complete an ancient prophecy and bring back her evil master, Chthon. Pushed to the brink, the Avengers desperately look to fight fire with hellfire and enlist the help of the Midnight Suns - Nico Minoru, Blade, Magik and Ghost Rider - young heroes with powers deeply rooted in the supernatural, formed to prevent the very prophecy Lilith aims to fulfill. In the face of fallen allies and the fate of the world at stake, it will be up to you to rise up against the darkness! Marvel's Midnight Suns is a new tactical RPG set in the darker side of the Marvel Universe, putting you face-to-face against demonic forces of the underworld as you team up with and live among the Midnight Suns, Earth's last line of defense.