| Elden Ring | Teenage Mutant Ninja Turtles: Shredder's Revenge | Capcom Fighting Collection |
| --- | --- | --- |
| | | |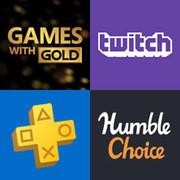 A frequently updated list of free games available from Epic Games Store, PS Plus, PS Now, Xbox Game Pass, Xbox Games With Gold, Twitch/Prime, Humble, EA/Origin Access, IndieGala, Steam, and other services.
1.

AI: The Somnium Files - nirvanA Initiative

Six years ago, the right half of a corpse was discovered under mysterious circumstances. The left half was never found...until six years later, when it was discovered completely fresh with no signs of decay, as though the victim was alive until just recently. Now, newly-appointed Special Agent Mizuki and her AI partner Aiba are tasked to solve the bizarre Half Body serial killings...

2.

Teenage Mutant Ninja Turtles: Shredder's Revenge

With Bebop and Rocksteady assaulting Channel 6 and stealing super gnarly devices to support Krang and Shredder's latest twisted plan, Teenage Mutant Ninja Turtles: Shredder's Revenge sees the Turtles battling across a righteous range of timeless TMNT locations. From Manhattan and Coney Island, to city rooftops and dank sewers, help the fearsome foursome trounce Foot Soldiers, Triceraton Warriors, and Rock Troops all the way to Dimension X! Enjoy stunning full-color pixel art graphics and a vintage TMNT vibe that will rock you straight back to the awesome 80s. Every character, vehicle, weapon, item, and background is directly inspired by the 1987 TV show, making you feel like you hopped into the television -- with a dope mix of killer humor and action-packed adventures!

3.

Cuphead in the Delicious Last Course

Another helping of classic Cuphead action awaits you in Cuphead - The Delicious Last Course! Brothers Cuphead and Mugman are joined by the clever, adventurous Ms. Chalice for a rollicking adventure on a previously undiscovered Inkwell Isle! With the aid of new weapons, magical charms, and Ms. Chalice's unique abilities, players will take on a new cast of fearsome, larger than life bosses to assist the jolly Chef Saltbaker in Cuphead's final challenging quest!

4.

Cotton Fantasy

Cotton Fantasy is a brand-new entry in the Cotton series that sees Cotton and Silk embark on another adventure, this time in HD graphics and with modernised gameplay, but true to its roots!

5.

Capcom Fighting Collection

Features 10 classic titles, including two Darkstalkers games never before released in North America! Take on all challengers in online play with rollback netcode for all ten games, and enjoy additional features including a gallery of official art, a music player with hundreds of tracks, and more: Darkstalkers: The Night Warriors Night Warriors: Darkstalkers' Revenge Vampire Savior: The Lord of Vampire Vampire Hunter 2: Darkstalkers' Revenge (Japanese version, first official release in North America) Vampire Savior 2: The Lord of Vampire (Japanese version, first official release in North America) Red Earth (First release outside of arcades) Cyberbots: Fullmetal Madness Super Gem Fighter Mini Mix Super Puzzle Fighter II Turbo Hyper Street Fighter II

6.

RiffTrax: The Game

RiffTrax: The Game is a multiplayer party game where players compete to make bad movies funny. Grab your friends and make fun of some of the worst cinematic abominations ever created. RiffTrax has been bringing their comedic commentary to movies for over 15 years - now's your chance to riff along with them! Do you have what it takes to be the next movie riffing genius?

7.

Pocky & Rocky Reshrined

Pocky the shrine maiden and Rocky the raccoon are back together in the latest game in the long-running classic shooter series! As the evil Black Mantle attacks, Pocky and Rocky need to team up once again, this time with some new friends to take on the upcoming challenges! With 8 stages of high-paced shooting action, you'll have your hands full with creepy enemies, big bosses, and lots of twists and turns!

8.

Metal Max Xeno Reborn

Humanity is on the brink of extinction and the last remaining survivors look to push back against the machines. Half a century ago of war against the mother computer NOA has reduced even Asia's largest metropolis, TOKIO, to rubble. Explore this desolate wasteland and battle your way through onslaughts of enemies. Salvage, modify and hit back using tanks, weaponry and faithful battle dog, Pochi, to reclaim a future for the human race! Set in a devastated world called Dystokio, Metal Max Xeno: Reborn is a nonlinear, open world, JRPG with real-time battle and vehicle combat elements. Take control of Talis and search for other survivors who wish to fight back against the machines of NOA. There are no limits to where you can go, no matter your progression in the game.

9.

Chrono Cross: The Radical Dreamers Edition

CHRONO CROSS: THE RADICAL DREAMERS EDITION is a remaster of "CHRONO CROSS". The 3D models have been upgraded to HD, new illustrations have added, and all kinds of new features are now included. Additionally, the game that formed the bedrock of the story, "RADICAL DREAMERS - Le Trésor Interdit -", is included in this edition. CHRONO CROSS is an RPG that transcends time and space, unfolding across two interlinked parallel worlds. With over 40 party members to meet, people and dimensions will intertwine in this epic drama about the planet itself. New Features in the Remastered Edition ・3D models converted to HD ・Refined character illustrations ・Higher-quality background music ・Switch enemy encounters on or off ・Background filter feature ・Battle enhancement features to make combat easier ・Auto-battle function ・Switch between imitation pixel font and HD font ・Change screen resolution

10.

Slipstream

It's 199X, you're in the driver seat. As you turn the key and hear the engine starting, a cassette plays on the stereo. The clear blue sky invites you to escape, to explore a world of exotic landscapes and thrilling races. Step on the gas, choose your path, drive across cities, mountains, deserts, forests, beaches — places from all over the world and beyond. Slipstream is a racing game influenced and inspired by the OutRun series, SEGA games in general, Initial D, Vaporwave & Synthwave aesthetics and the spirit of 90s arcades. It uses a real pseudo3D engine to provide an authentic retro experience in a modern shell. After being funded via kickstarter in 2016 and delayed more times than the developer would like to admit, it was released independently for PC in 2018.