| God of War: Ragnarok | Persona 4 Golden | Persona 3 Portable |
| --- | --- | --- |
| | | |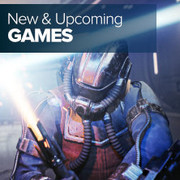 Find release dates, trailers, and scores for major upcoming and recent videogame releases for all platforms, updated weekly.
1.

Persona 4 Golden

Strange rumors of the Midnight Channel slowly spread through the rural town of Inaba, the protagonist's new home, just as a chain of mysterious murders begin. As the protagonist and his teammates chase after the truth, they find themselves opening the door to another world. Inaba, a quiet town in rural Japan sets the scene for budding adolescence in Persona 4 Golden. A coming of age story that sets the protagonist and his friends on a journey kickstarted by a chain of serial murders. Explore meeting kindred spirits, feelings of belonging, and even confronting the darker sides of one's self. With an overall Metacritic score of 93 and a multitude of awards, fan-adored Persona 4 Golden stands as one of the finest RPGs ever made, delivering on enthralling storytelling and quintessential Persona gameplay. Key Features include: * Enjoy gameplay with variable framerates * Experience the world of Persona on Xbox in Full HD * Achievements * Choose between Japanese and English VO

2.

Chained Echoes

Take up your sword, channel your magic or board your Mech. Chained Echoes is a 16-bit SNES style RPG set in a fantasy world where dragons are as common as piloted mechanical suits. Follow a group of heroes as they explore a land filled to the brim with charming characters, fantastic landscapes and vicious foes. Can you bring peace to a continent where war has been waged for generations and betrayal lurks around every corner? Chained Echoes is a story-driven game where a group of heroes travel around the vast continent of Valandis to bring an end to the war between its three kingdoms. In the course of their journey, they will travel through a wide array of diverse landscapes spanning from wind-tanned plateaus and exotic archipelagos to sunken cities and forgotten dungeons.

3.

Persona 3 Portable

The Dark Hour, time "hidden" between one day and the next. Unfamiliar stillness swallows the city, people turn into eerie coffins, and otherworldly monsters called Shadows swarm. One night, the protagonist is attacked by these Shadows and the power of the heart, their Persona, is awakened. As a member of a secret school club, you must wield your inner power--Persona--and protect humanity from impending doom. Will you live to see the light of day?

4.

Sonic Frontiers

Worlds collide in Sonic the Hedgehog's newest adventure. Accelerate to new heights and experience the thrill of high velocity open-zone freedom. Battle powerful enemies as you speed through the Starfall Islands - landscapes brimming with dense forests, overflowing waterfalls, sizzling deserts and more.

5.

SpongeBob SquarePants: The Cosmic Shake

Wish-granting Mermaid's Tears in the hands of SpongeBob and Patrick... What could possibly go wrong? Sure, the very fabric holding the very universe very together could come very undone, opening up portals into Wishworlds full of knights, cowboys, pirates, and prehistoric snails. But that's nothing everyone's favorite sponge can't handle - with the right cosmic costume! Everybody do the Cosmic Shake! Features * Unlock classic and new platforming skills like the Fishhook Swing and Karate Kick * Don more than 30 F.U.N.tastic costumes like SnailBob and SpongeGar * Travel to 7 distinct Wishworlds like Wild West Jellyfish Fields and Halloween Rock Bottom * Experience all the buddy movie banter with SpongeBob's permanent companion Balloon-Patrick * Meet all your favorite Bikini Bottomites from the series, voiced by their original actors * Enjoy the in-game soundtrack featuring 101 songs from the series, including Sweet Victory

6.

Kukoos - Lost Pets

This 3D platformer takes players to a new universe of limitless adventures, join the Kukoos in a corky and upbeat adventure to rescue the brainwashed pets. Enter the Kukoo Tree and its infinite doors that take you to unimaginable words of dangers and wonders. The accessible gameplay teaches beginners to progress and uncover the mysteries story. As you play and master the mechanics the game grows with the player and challenges you with more ways to interact and think outside the box. Play as K or Kika and meet many friendly Kukoos, not so friendly Sea creatures and Join Forces with 5 uncanny Pets that will change your gameplay, inviting you to learn adapt, unleashing new powers and ways think the levels.