| Cuphead in the Delicious Last Course | Monster Hunter Rise: Sunbreak | Outriders Worldslayer |
| --- | --- | --- |
| | | |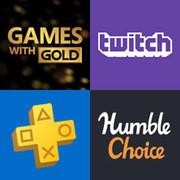 A frequently updated list of free games available from Epic Games Store, PS Plus, PS Now, Xbox Game Pass, Xbox Games With Gold, Twitch/Prime, Humble, EA/Origin Access, IndieGala, Steam, and other services.
1.

The Stanley Parable: Ultra Deluxe

The Stanley Parable: Ultra Deluxe is an expanded re-imagining of 2013's The Stanley Parable. You will play as Stanley, and you will not play as Stanley. You will make a choice, and you will become powerless. You are not here to win. The Stanley Parable is a game that plays you.

2.

Cuphead in the Delicious Last Course

Another helping of classic Cuphead action awaits you in Cuphead - The Delicious Last Course! Brothers Cuphead and Mugman are joined by the clever, adventurous Ms. Chalice for a rollicking adventure on a previously undiscovered Inkwell Isle! With the aid of new weapons, magical charms, and Ms. Chalice's unique abilities, players will take on a new cast of fearsome, larger than life bosses to assist the jolly Chef Saltbaker in Cuphead's final challenging quest!

3.

Neon White

Neon White is a lightning fast first-person action game about exterminating demons in Heaven. You are White, an assassin handpicked from Hell to compete with other demon slayers for a chance to live permanently in Heaven. The other assassins seem familiar, though… did you know them in a past life? Features: • You play as Neon White, an assassin plucked from Hell to compete with other demon slayers for a shot at redemption. • Collect "Soul Cards" to attack your foes or discard them to use unique movement abilities. • Compete for the best times by cleverly combining cards to discover massive shortcuts. • Uncover Heaven's mysteries by getting to know the other assassins… did you know them in a past life?

4.

AI: The Somnium Files - nirvanA Initiative

Six years ago, the right half of a corpse was discovered under mysterious circumstances. The left half was never found...until six years later, when it was discovered completely fresh with no signs of decay, as though the victim was alive until just recently. Now, newly-appointed Special Agent Mizuki and her AI partner Aiba are tasked to solve the bizarre Half Body serial killings...

5.

Rogue Legacy 2

Rogue Legacy 2 is what you'd get if you mashed Rogue Legacy and a sequel together. Every time you die, your children will succeed you, and each child is unique. Your daughter might be a Colourblind Archer, and your son could be a Pacifistic Chef. Either way, one of them is getting conscripted.

6.

Monster Hunter Rise: Sunbreak

Monster Hunter Rise: Sunbreak is an expansion to the original Monster Hunter Rise. Featuring improved gameplay and nimble-feeling additions to combat mechanics, unique new monsters and hunting locales, and a new difficulty level in the form of Master Rank quests. As the hunter who saved Kamura from calamity, you must now journey to the far-off reaches of Elgado, an outpost near a Kingdom beset by a sinister new nemesis—the elder dragon Malzeno! Kamura Village is finally at peace, having fought off an onslaught of monsters attacks known as the Rampage. That hard-earned peace is disrupted by the unexpected appearance of the wolf-like monster Lunagaron in the Shrine Ruins. In the Shrine Ruins, the hunter meets Fiorayne, a knight of the Royal Order. Fiorayne asks for the hunter's help in investigating why monsters from the Kingdom are becoming violently aggressive and invading other territories, including Kamura. United in mission, they set off for the far-off outpost of Elgado.

7.

OlliOlli World: VOID Riders

With its DLC expansion, Void Riders, the side-scrolling skateboarding platformer is taking things a step further with a cosmic theme and the addition of a whole bunch of aliens.

8.

Teenage Mutant Ninja Turtles: Shredder's Revenge

With Bebop and Rocksteady assaulting Channel 6 and stealing super gnarly devices to support Krang and Shredder's latest twisted plan, Teenage Mutant Ninja Turtles: Shredder's Revenge sees the Turtles battling across a righteous range of timeless TMNT locations. From Manhattan and Coney Island, to city rooftops and dank sewers, help the fearsome foursome trounce Foot Soldiers, Triceraton Warriors, and Rock Troops all the way to Dimension X! Enjoy stunning full-color pixel art graphics and a vintage TMNT vibe that will rock you straight back to the awesome 80s. Every character, vehicle, weapon, item, and background is directly inspired by the 1987 TV show, making you feel like you hopped into the television -- with a dope mix of killer humor and action-packed adventures!

9.

MOTHERGUNSHIP: FORGE

Craft. Shoot. Die. Repeat. Forge absurdly powerful guns and fight through the belly of a metal alien monstrosity in this VR FPS roguelite follow up to MOTHERGUNSHIP. Wanna build a rocket-firing-shotgun or a toxic spike-ball-launcher? Unleash your inner mad scientist, then take on the MOTHERGUNSHIP.

10.

Floppy Knights

Hey there, humans. It's me, Carlton! Phoebe's most trusted friend... and coolest arm, if I do say so myself. Now, who's Phoebe, you ask? She's a talented inventor and programmer with a taste for the finer things in life and prefers to work smarter, not harder. Her mission: save up enough cash to finally move outta her parents' place. That's where I come in! Phoebe created me, her bionic arm and best friend, to help her achieve her goals. Not only am I brilliant, handsome, and funny, but I've also got a neat trick up my sleeve - I can take regular old floppy disks and turn them into these handy-dandy projections we call "Floppy Knights!" They're super useful for just about any task especially when it's time to throw down on the battlefield. With the help of our new buddies, the occasional odd job has turned into a steady side hustle... but things are getting a bit more intense than we bargained for! Bigger and badder monsters keep popping up and now Phoebe's not so sure about this whole "hero" role... but I'm getting ahead of myself. Let's chat about all the sweet stuff you'll get to do in the game!