| Forspoken | SEASON: A letter to the future | Dead Space |
| --- | --- | --- |
| | | |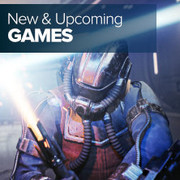 Find release dates, trailers, and scores for major upcoming and recent videogame releases for all platforms, updated weekly.
1.

Dwarf Fortress

The deepest, most intricate simulation of a world that's ever been created. The legendary Dwarf Fortress is now on Steam. Build a fortress and try to help your dwarves survive against a deeply generated world.

2.

Chained Echoes

Take up your sword, channel your magic or board your Mech. Chained Echoes is a 16-bit SNES style RPG set in a fantasy world where dragons are as common as piloted mechanical suits. Follow a group of heroes as they explore a land filled to the brim with charming characters, fantastic landscapes and vicious foes. Can you bring peace to a continent where war has been waged for generations and betrayal lurks around every corner? Chained Echoes is a story-driven game where a group of heroes travel around the vast continent of Valandis to bring an end to the war between its three kingdoms. In the course of their journey, they will travel through a wide array of diverse landscapes spanning from wind-tanned plateaus and exotic archipelagos to sunken cities and forgotten dungeons.

3.

Portal with RTX

Portal with RTX is a free DLC for all Portal owners developed by NVIDIA Lightspeed Studios. Experience the critically acclaimed and award-winning Portal? reimagined with ray tracing. Every frame of gameplay is upgraded with stunning full ray tracing, new, hand-crafted hi-res physically based textures, and new, enhanced high-poly models evocative of the originals, all in stunning 4K. In Portal with RTX, full ray tracing transforms each level, enabling light to bounce and be affected by the scene's geometry and materials. Every light is ray-traced and casts shadows, global illumination indirect lighting naturally illuminates and darkens rooms, volumetric ray-traced lighting scatters through fog and smoke, and shadows are pixel perfect. Portal with RTX is compatible with all ray-tracing capable GPUs.

4.

Hi-Fi Rush

Feel the beat as wannabe rockstar Chai and his ragtag team fight against an evil megacorp with raucous rhythm combat! From Tango Gameworks comes Hi-Fi RUSH, an all-new action game where the world syncs to the music.

5.

Marvel's Spider-Man: Miles Morales

The latest adventure in the Spider-Man universe will build on and expand 'Marvel's Spider-Man' through an all-new story. Players will experience the rise of Miles Morales as he masters new powers to become his own Spider-Man.

6.

A Space For The Unbound

A Space For The Unbound is a slice-of-life adventure game with beautiful pixel art set in the late 90s rural Indonesia that tells a story about overcoming anxiety, depression, and the relationship between a boy and a girl with supernatural powers. Follow two high school sweethearts, Atma and Raya, on a journey of self-discovery at the end of their high school years. When a mysteriously supernatural power is suddenly unleashed threatening their existence, they must explore and investigate their town to uncover hidden secrets, face the end of the world, and perhaps learn more about each other.

7.

Pentiment

Step into a living illustrated world inspired by illuminated manuscripts and printed woodcuts in a time when Europe is at a crossroads of great religious and political change. Walk in the footsteps of Andreas Maler, a master artist who finds himself in the middle of murders, scandals, and intrigue in the Bavarian Alps. Choose your backgrounds, impact a changing world, and see the consequences of your decisions in this narrative adventure.

8.

Dead Space

Developed exclusively for next generation consoles and PC, raising the level of horror and immersion to unprecedented heights for the franchise through stunning visuals, audio and controls powered by the Frostbite game engine. Fans will experience an improved story, characters, gameplay mechanics and more as they fight to survive a living nightmare aboard the desolate mining starship, the USG Ishimura, all while uncovering the dreadful mystery of what happened to the slaughtered crew and ship. In Dead Space, Isaac Clarke is an everyman engineer on a mission to repair a vast, sprawling starship, the USG Ishimura, only to discover something has gone horribly wrong. The ship's crew has been slaughtered and infected by some alien scourge...and Isaac's beloved partner, Nicole, is lost somewhere on board. Now Isaac is alone with only his tools and engineering skills as he attempts to uncover the nightmarish mystery of what happened aboard the Ishimura. Trapped with hostile creatures called "necromorphs", Isaac faces a battle for survival, not only against the escalating terrors of the ship, but his own crumbling sanity.

9.

Kynseed

You've been given the Kynseed, a mystical acorn that grows into a family tree where your choices manifest in its branches. Raise a family, farm the land, run shops, and explore a world where everyone ages. When you die, step into the shoes of your children and continue your legacy.

10.

Once Upon a Jester...

Best friends Sok & Jester devise a mischievous scheme to steal the Royal Diamond! To complete their master plan, they must start an improv theatre show and outperform every other act - including their rivals, Hofnar & Bok. Only becoming the best show in the kingdom will get them invited to the Royal Theatrical Spectacle in the Royal Palace, where the king keeps his precious gem. They embark on a grand adventure across a fantasy kingdom, meeting tons of wacky characters, performing improvised shows and singing their hearts out. Along the way, they unintentionally discover the freedom and joy of musical theatre. Will the pair change their wicked ways or do whatever it takes to get rich?