| Elden Ring | Samurai Warriors 5 | Weird West |
| --- | --- | --- |
| | | |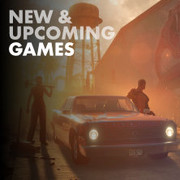 Find release dates, trailers, and scores for major upcoming and recent videogame releases for all platforms, updated weekly.
1.

What Lies in the Multiverse

What Lies in the Multiverse is a story-driven puzzle platformer filled to the brim with hijinks, chaos, and reality-bending adventure. Harness the power of the multiverse! Switch worlds in mid-air, turning pitfalls into bridges, walls into tunnels, and foes into friends. Just be careful when you mess around with gravity Embark on a journey across gorgeous pixel-art worlds, each with a unique parallel reality you can dive into at will. Explore temples, towns, harbors, the wilderness and more as you race to unlock the secrets of the Multiverse. Meet a vast cast of quirky characters: mad scientists, secret agents, sweet old ladies, enlightened monks, and a charismatic, reality-hopping genius named Everett, who promises to take you on a whirlwind adventure and is definitely telling you the whole truth about himself, yes siree, nothing suspicious there at all!

2.

Tunic

Tunic is an isometric action adventure about a tiny fox in a big world. Embark on an adventuresome questabout set in that place just beyond the farthest you've ever been. Explore ancient ruins, fight monsters and uncover mysterious secrets. The world is big and scary — so be brave, little one.

3.

Chrono Cross: The Radical Dreamers Edition

CHRONO CROSS: THE RADICAL DREAMERS EDITION is a remaster of "CHRONO CROSS". The 3D models have been upgraded to HD, new illustrations have added, and all kinds of new features are now included. Additionally, the game that formed the bedrock of the story, "RADICAL DREAMERS - Le Trésor Interdit -", is included in this edition. CHRONO CROSS is an RPG that transcends time and space, unfolding across two interlinked parallel worlds. With over 40 party members to meet, people and dimensions will intertwine in this epic drama about the planet itself. New Features in the Remastered Edition ・3D models converted to HD ・Refined character illustrations ・Higher-quality background music ・Switch enemy encounters on or off ・Background filter feature ・Battle enhancement features to make combat easier ・Auto-battle function ・Switch between imitation pixel font and HD font ・Change screen resolution

4.

Will You Snail?

Will You Snail is a fast-paced action platformer with an AI twist that offers a unique single-player experience: a challenging adventure in a neon-glowing setting that blends combat, puzzle-solving, and lots of humor together.

5.

Gunborg: Dark Matters

Harness the power of dark energy as you, jump, slash, shoot and bombard your way through an army of alien soldiers and killer robots in an arcade style, action platformer with a slick 80's synthwave soundtrack. Gunborg: Dark Matters is an arcade-style action platformer with smooth gameplay and a slick 80s synthwave soundtrack. The game takes place aboard a giant spaceship filled with a variety of traps, hazards, aliens and robots. Do you have what it takes to face constant threats while staying on your feet in the heat of combat? Can you keep your cool when chaos is descending upon you?

6.

Weird West

Survive and unveil the mysteries of the Weird West through the intertwined destinies of its unusual heroes in an immersive sim from the co-creators of Dishonored and Prey. Discover a dark fantasy reimagining of the Wild West where lawmen and gunslingers share the frontier with fantastical creatures. Journey through the origin stories of a group of atypical heroes, written into legend by the decisions you make in an unforgiving land. Each journey is unique and tailored to the actions taken - a series of high stakes stories where everything counts and the world reacts to the choices you make. Form a posse or venture forth alone into an otherworldly confines of the Weird West and make each legend your own.

7.

Young Souls

As orphans, Jenn and Tristan's life path brought them to a mysterious scientist, who took them in and cared for them as his own children. But one day, he disappeared under very odd circumstances. While searching desperately for him, the duo found a hidden cellar and the Moon Gate portal, transporting them to a dangerous parallel world where goblins thrive. Your adventure begins as you fight to bridge these two very different worlds. Young Souls is a gorgeous 2D brawler meets story-rich action RPG. Fight hordes of belligerent goblins, level up with hundreds of weapons and accessories, explore, and journey between worlds, as rebellious twins battle their way to save their foster father.

8.

The Wanderer: Frankenstein's Creature

Experience the Myth of Frankenstein through the innocent eyes of his creature. A game where your choices may well change the course of his story. Play as the Creature, a wanderer without memory or past, a virgin spirit in a completely fabricated body. To forge the destiny of this artificial being who is ignorant of both Good and Evil, you will have to explore the vast world and experience joy and sorrow. Dr. Frankenstein's founding myth is once again revealed in all its glory through the innocent eyes of his creature. A thousand miles from the horror stories, here is a sensitive wander in the shoes of a pop icon.

9.

Slipstream

It's 199X, you're in the driver seat. As you turn the key and hear the engine starting, a cassette plays on the stereo. The clear blue sky invites you to escape, to explore a world of exotic landscapes and thrilling races. Step on the gas, choose your path, drive across cities, mountains, deserts, forests, beaches — places from all over the world and beyond. Slipstream is a racing game influenced and inspired by the OutRun series, SEGA games in general, Initial D, Vaporwave & Synthwave aesthetics and the spirit of 90s arcades. It uses a real pseudo3D engine to provide an authentic retro experience in a modern shell. After being funded via kickstarter in 2016 and delayed more times than the developer would like to admit, it was released independently for PC in 2018.

10.

Time Loader

Time Loader is a story-driven, physics-based puzzle platformer with a twist. At the helm of a small robot, you'll travel back to the 90s to prevent a tragic accident. Explore the house of your creator, solve brain-teasing puzzles, acquire unique and powerful upgrades, and see common household items from an entirely new perspective! But remember: meddling with time has serious consequences. You may succeed in changing the past, but can you deal with the result of your actions?