Publisher:

Nintendo

Release Date:

Apr 29, 2022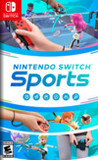 Summary:

Swing, kick, spike, and bowl your way to victory in a sports collection that will get the whole family moving. Get moving* with Soccer, Volleyball, Bowling, Tennis, Badminton, and Chambara (Swordplay) using Joy-Con™ controllers! Controls are intuitive, so you can hit the court (or lanes, or

Swing, kick, spike, and bowl your way to victory in a sports collection that will get the whole family moving. Get moving* with Soccer, Volleyball, Bowling, Tennis, Badminton, and Chambara (Swordplay) using Joy-Con™ controllers! Controls are intuitive, so you can hit the court (or lanes, or field, or arena) and get started. With controlled motions you can curve your bowling ball, add spin to a tennis shot, or even use a Joy-Con with the Leg Strap accessory to kick the ball in a Soccer Shootout. Family and friends can join in on the fun on the same system** or online***. Plus a seventh sport is planned to be added via a free update this fall; get ready to Golf!****

Play online and face opponents near and far to earn in-game rewards or aim for the Pro League

Face off against opponents worldwide and strive to reach the Pro League in every sport. As you play online*** in random matchmaking, redeem points you earn for in-game rewards like outfits, sports accessories, gear, and much more for your avatar. The selection of items will rotate each week, so check back and see what's in stock!

Play with friends and family in the same room or across the world

Bowl, spike, and duel with friends in all 6 sports! Pass a Joy-Con controller to a friend** for some 1v1, 2v2, or a free-for-all that will get everyone moving. In Bowling, all players can bowl simultaneously—no waiting for your turn. Play each game online***, or team up with a friend on the same system to take on opponents near and far in team sports like Volleyball and Tennis.


…

Expand
Developer:

Nintendo

Genre(s):

Sports

,

General

,

Individual

,

Athletics

# of players:

2

Cheats:

On GameFAQs

Rating:

E10+
My time with Nintendo Switch Sports has been one of the most fun experiences I have had with a co-op game. And frankly, the most fun I've had with anything sport-related ever.

Nintendo Switch Sports is not a series revolution, although there is a special, partly Rocket-League-like new football mode. But the game does not need to be a revolution. It is just an entertaining sports and party game, with a lovely presentation that's a pleasure to play, even alone, but especially together with friends.

Nintendo Switch Sports really is a game of two halves. Offline the game is sorely lacking in features but may still be enough for 'casual' families looking for some simple fun. Solo players, however, will want to head online, which is where the game's progression system (and its real longevity) can be found.

All of these games are great in short bursts. It's only over repeated play sessions that they start to falter. To that end, your enjoyment is tied to your playstyle. Will you bust out Nintendo Switch Sports whenever friends drop by or log on? Perfect. You'll get months of use out of this game. But if you lean too hard on these activities all at once, you'll be burnt out in a couple of days. On the other hand, if you've been pining for a return to the glory days of Wii Sports, this game is perfect for you. You can even use the old-school Miis instead of the fancier character templates. Just remember to keep your living room clear of obstacles. All of this swinging around is dangerous, after all.

More a party game than a real sports game, Nintendo Switch Sports naturally follows in the footsteps of Wii Sports and Wii Sports Club. And it's true that we have fun, as long as we have a few friends at hand and a subscription to Nintendo Switch Online. These two conditions are indeed necessary to have fun over the long term, because the absence of any scripted mode means that solo play has almost no interest.

Nintendo Switch Sports is the worthy heir of Wii Sports. With a tasty mix of nostalgic and innovative disciplines, the game capture the magic of the first two games in the series.

This game should have been released 5 years ago as a free bonus to the console itself, just like Wii Sports years ago. As a stand-alone game for a full price, Nintendo Switch Sports simply doesn't cut it.
Me gusta mucho este juego y me gusta que aprovechen las funcionés de los joy-cons y no se desperdicien.

Realmente es un juego BASTANTE divertido, especialmente si lo juegas con tu familia. Aunque no tenga muchos modos de juego (Que irán

Realmente es un juego BASTANTE divertido, especialmente si lo juegas con tu familia. Aunque no tenga muchos modos de juego (Que irán añadiéndose poco a poco), esto se compensa con su gran jugabilidad y distintas formas para jugar cada juego. Obviamente no será el mismo ''bum'' que hace 16 año, pero creo que la gran mayoría de las críticas son sin siquiera haber tocado el juego.

…

Expand

Great revamp of a classic game its the smoothest nintendo sports ive played and the charcter avatars are adorable lots of custimation for

Great revamp of a classic game its the smoothest nintendo sports ive played and the charcter avatars are adorable lots of custimation for them. A little light on content but online playabiltiy means you always have someone to play with, alos prospect of futre free dlc like golf means future support.

…

Expand

Nintendo switch sports is just seen as a disappointing sequel to the beloved wii sports/wii sports resort. I completely agree that this game

Nintendo switch sports is just seen as a disappointing sequel to the beloved wii sports/wii sports resort. I completely agree that this game is mostly missed potential however there is still some fun in it.

…

Expand

Switch sports is barebones, lacks innovation and somehow ends up a lesser game than its predecessors. There's fun to be had in party-settings

Switch sports is barebones, lacks innovation and somehow ends up a lesser game than its predecessors. There's fun to be had in party-settings but the big feature (online) gets grindy very quickly.

Volleyball is very jarring, badmitton is dull and simple, bowling battle-royale style is tedious with a tiny margin for error, soccer is actually the most fun, chumbara (swordfighting) feels very imprecise and tennis...is just wrong. 2V2 is unfair when you don't match with another player (meaning you have to control both players) but the other team has two independent players.

Unlocking cosmetics feels like a grind, and its pointless if every player is choosing from a very small subset of options. You only get slightly more points for winning than losing, so the easiest way to earn points is to lose. There's also no payout if a player leaves a match.

Switch Sports is definitely going to need more than just Golf being added to stay on my shelf. Not being able to earn cosmetics without Switch online kills the single player and makes Switch Sports seem like a way to sell NSO subscriptions.

…

Expand

Pretty disappointing overall. Games are fun but very limited, so the fun ends pretty quickly.

Bowling - Rehash of wii sports. Online playPretty disappointing overall. Games are fun but very limited, so the fun ends pretty quickly.

Bowling - Rehash of wii sports. Online play has a frustrating elimination mechanic, and you have no control of if you get regular lanes or the new obstacle course lanes.

Tennis - Basically the same as wii sports. It is timing based only, you have no control over movement of your mii.

Badminton - Essentially 1 v 1 tennis, with a drop shot mechanic added in.

Soccer & Volleyball - these are pretty fun with friends, but can be really awful playing with random people online (which is the only way to earn points towards unlocking accessories)

The Sword one - Fun, but very simple, gets old quickly.

…

Expand

I like this game but there is also some flaws

The good:Charming art style, the sportmates looks cute, the option to play as your mii, theI like this game but there is also some flaws

The good:Charming art style, the sportmates looks cute, the option to play as your mii, the sports are fun to play, my favorite is chambara! The unlockables are easy to get (if you're good), the cosmetics looks awesome, the online works well a fun game to play with your friends, family, and strangers online! Spocco square is a charming place, people who dont have switch online can play try to get cosmetics against cpus in the online mode, You can play with another player to face off the other players (one person with switch online is needed to play online with another player)

The bad:Can't put hats, glasses and masks on the miis, it doesnt take place in Wuhu island, The people who dont have switch online can only get 2 cosmetics a week, the Miis aren't the main focuss, we can't block when we're stun in chambara, Tennis and Badminton have their differences but they feels a bit the same, Nintendo is using the "fix it later" approach with this game, Golf will be avaible in Auntumn. Only 6 sports avaible at launch while Wii sport resort had 12. No 100 pin mode (this mode is a bit overrated anyway but still sad its not in the game), Spocco square isnt open world so you can't walk to the sport facility and play the sport.

Conclusion:The game is awesome, i enjoy playing voleyball with my little brother, We should give time to the game, and maybe it won't be that bad month later, Its not bad as a certain Mario sport game that revolve around tenis that didnt included a stadium select screen. Overall i give this game a 8 because its fun to play but they should put more stuff in it! (i respect the opinion of others who don't like the game)

…

Expand