| Touken Ranbu Warriors | Nintendo Switch Sports | Arise: A Simple Story - Definitive Edition |
| --- | --- | --- |
| | | |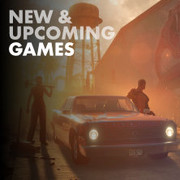 Find release dates, trailers, and scores for major upcoming and recent videogame releases for all platforms, updated weekly.
1.

13 Sentinels: Aegis Rim

Vanillaware, the storytellers behind Odin Sphere and Dragon's Crown, craft a sci-fi mystery epic spanning thirteen intertwining stories. Uncover the truth and delve into a 2D sidescrolling adventure featuring gorgeous art and environments. Then, battle the kaiju in fast-paced, top-down combat. Customize the Sentinels with an arsenal of mechsuit weaponry, and fight to defend humanity! A departure from the studio's traditional fantasy style, the game takes place in a modern setting punctuated with giant mechs. Although the world may be bleak, Vanillaware's signature artistic shine and gorgeous aesthetics will bring the characters and story of 13 Sentinels to life. CHARACTERS: JURO KURABE A mild-mannered young high school student trying to live a normal life in the 80s. Rarely excited, he is fond of campy old Sci-Fi movies, with their giant robots and space invasions. But it seems like everyone in his life is trying to manipulate him for their own ominous ends... IORI FUYUSAKA She believes she's an ordinary high school girl, with dreams and crushes and a sweet tooth. However, she finds herself at the center of a massive conspiracy, called on to stop an apocalypse before the world is doomed. What she's not sure about is: can she really answer the call? EI SEKIGAHARA A stoic young man with amnesia, Ei finds himself next to a dead body without any memories of his past. Declared a boy "from another dimension", he's constantly pursued by armed gunmen in black suits, and often finds himself in intense life-or-death situations. Through investing the clues and people in 1985, he chases the truth beyond his lost memories... KEITARO MIURA A dutiful young soldier from 1945, fiercely dedicated to defending his country. He'd lay down his life if it meant saving even a single soul. Chosen as part of a secret military program to pilot a new weapon called a "Sentinel", Miura soon discovers that his true enemies lie beyond World War II... MEGUMI YAKUSHIJI A shy, composed girl of few words, with a nurturing domestic side. While she's devoted to her beloved, Juro, he himself has lost all memory of their past relationship. Goaded on by a mysterious talking cat, she agrees to a "contract" -- willing to go to any length to restore the boy she loves. NATSUNO MINAMI A perky, friendly girl on her high school's track team who loves a good Sci-Fi story. When she discovers a small robot hiding in the school, it seems like a story out of one of her favorite movies. However, she finds herself drawn into a massive, apocalyptic conspiracy in which the dangers of her favorite shows becomes disturbingly real. NENJI OGATA A high school punk with a heart of gold. He prefers to punch first and ask questions later, so when he gets involved in a convoluted conspiracy, most of the geek-talk goes over his head. Still, he's determined to bust through and save the girl -- even if he's resigned to her thinking he's just another thug. RENYA GOUTO A cold, brilliant young man who will use any means necessary to find the truth. Gouto processes information and startling revelations with a calm, ready intelligence that baffles (or outpaces) the adults around him. He's no villain, but he knows what's at stake, and what must be done. RYOKO SHININOME An aloof agent desperate to prove her worth to her unrequited love (and mentor) Tetsuya Ida. A mission gone wrong left Ryoko with traumatic brain damage, and dependent on a medicine of unclear origins. Still, she fights through the mental fog and pain to untangle the conspiracies... SHU AMIGUCHI An easygoing late-80s high school playboy, quick to make friends and quick to flirt. Tries not to take life too seriously, whether it's on his side or not. But when his TV turns on by itself, and an idol starts talking to him through it, begging for his help unraveling a mystery...he rolls with it as best he can. TAKATOSHI HIJIYAMA A confident young Japanese soldier in the 1940s, displaced from his home and dropped into a city both foreign and familiar. Adrift, old-fashioned, and out of place, he struggles to make sense of all the changes in his world...and then, after months of living as a solitary vagrant, he finds the young man responsible for uprooting his life. TOMI KISARAGI A flippant, shy teenager. She often hangs out with her gal pals after school, getting snacks and chatting like any other, but she seems to know more than she lets on. Determined to investigate the mysteries of her fate, she surreptitiously follows whatever lead she can, only to discover even greater peril awaiting her... YUKI TAKAMIYA A surly delinquent who (reluctantly) infiltrates the school as a spy to save her best friend. Despite her disdain for her underhanded allies, she stubbornly seeks the truth when everyone else has something to hide. Tough and caustic, but she's got a protective streak and a sharp mind.

2.

The Stanley Parable: Ultra Deluxe

The Stanley Parable: Ultra Deluxe is an expanded re-imagining of 2013's The Stanley Parable. You will play as Stanley, and you will not play as Stanley. You will make a choice, and you will become powerless. You are not here to win. The Stanley Parable is a game that plays you.

3.

Parkasaurus

Parkasaurus is a dinosaur tycoon management simulation where you take care of your dinosaurs by constructing well-designed exhibits, researching specialized technologies, and maximizing profits to expand into the ultimate dinosaur theme park. Do you favor development that favors your dinosaurs or the guests?

4.

The Last Friend

Seamlessly blending both the arcade action of games like Streets of Rage with the strategical thinking of titles like Plants vs. Zombies, The Last Friend quickly becomes a battle of man and canine standing stalwart against the end of the world. The Last Friend brings in a horde of super-powered dogs to help players drive back the violent mutants and gangs of the apocalypse in a fun, fast-paced hybrid of Brawler and Tower Defense. You'll work your way across a vast dystopian, wasteland rescuing doggos who will in turn help you save the world in your roving battle station of conversion van that would make Harry from Dumb and Dumber incredibly jealous.

5.

Kirby and the Forgotten Land

Join Kirby in an unforgettable journey through a mysterious world in a 3D platforming adventure. Float off on an all-new adventure as the powerful puffball, Kirby. Explore in 3D stages as you discover a mysterious world with abandoned structures from a past civilization—like a shopping mall?! Copy enemies' abilities like the new Drill and Ranger and use them to attack, explore your surroundings, and save the kidnapped Waddle Dees from the ferocious Beast Pack alongside the mysterious Elfilin. Hope you're hungry for an unforgettable adventure! Join up with a pointy partner, Bandana Waddle Dee, in co-op play Pass a Joy-Con™ controller to a buddy to play as the spear-wielding Bandana Waddle Dee and help each other explore and battle through this colorful world. While Kirby can float and inhale enemies, Bandana Waddle Dee can spin and stab with his sturdy spear. Find friendship in this forgotten world and save the Waddle Dees! Float over obstacles and fight through enemies on your way to each stage's goal as you slash, poke, freeze, and hammer using Kirby's copy abilities. Each themed stage you travel through will hide several friendly Waddle Dees in peril! Save them to grow the home base of your adventure, the once-deserted Waddle Dee Town. The Waddle Dees you rescue will unlock shops and leaderboards*. You'll also be able to enjoy some of the townsfolk's favorite games.

6.

Nobody Saves the World

When the ancient Calamity re-awakens, who can save the world? Nobody! (That's you, you're Nobody.) Master the art of transformation to become a Slug, Ghost, Dragon, and more in this new take on Action RPGs from the creators of Guacamelee! Complete quests to discover and swap between 15+ varied and distinct Forms. Mix and match abilities in unexpected ways to unlock and complete even MORE challenging quests. Explore a vast overworld - on your own or with a friend online - while clearing shape-shifting dungeons in an effort to stop The Calamity and save the world!

7.

Demon Turf: Neon Splash

– This painting is no joke! Explore these surreal worlds, filled with bright neon colors, and enjoy the intoxicating combination of 2D & 3D art! – Beebz will focus on what she does best! Platforming! Maintain a constant momentum with no stopgaps or combat, it's all about the platforming that is faster & better than ever before! – A unique checkpoint system, tweaked to perfection! Place your own checkpoints at any time with no limit! Retreading is for losers! – Lots to do! Explore 10 finely crafted levels with a plethora of unique challenges and hazards that are constantly introduced to you at a record pace! – Setpiece levels with a fun narrative to boot! After all, Beebz didn't get sucked into the painting alone and her friends certainly are characters! – A ton of additional goals for you to complete, such as: Collecting all the sweets in a level, finding the hidden vinyl which unlocks 10 more remix levels & getting all the trophy times! – Remix levels?! You betcha! And don't be fooled, these are expertly crafted to be entirely new levels with brand new challenges! Better bring your A-game! – Who knows what awaits you if you complete the game 100%? We do, and it's pretty sweet, so you should do it. – 6 finely tuned modifications you can buy with your collectables: Sweets! Only the best of the best, such as mods that add an extra hit point, tweak or add new movesets etc. They even change your looks! – Leaderboards, baby! That's right, compete for the best times across the world and show off your mettle! – Photo Mode! Look, at this point it's mandatory and Beebz is really good at taking selfies! So snap away! – Settings galore! Seriously, this thing's packed with options, so customize your game the way YOU want it to be!

8.

Super Mega Zero

Miss Undefined has been whisked away by the dastardly Kill Screen. Go from Zero to Hero in this fast-paced platformer, chasing time, the high score, and eventually the Kill Screen itself. Super Mega Zero is a tight precision and puzzle platformer with shoot 'em up elements. Simply touch an upgrade and switch forms to go from classic, straight-forward platforming to the more puzzle-like action number system or Shoot' Em Up gameplay.

9.

Gotta Protectors: Cart of Darkness

Protect the Princess, Smash Castles, and Pulverize Foes. Will You Be the First to Collect All 948 Game Carts? It's another fine morning in Magicadia...except your castle has suddenly turned into a tank. And what's this about a dark prophecy that could lead to the end of all video games? A CONFUSION IS YOU. Choose your Gotta Protectors and get ready to hack, slash, and spell-sling your way through an epic campaign of over 100 thumb-blistering maps—plus dozens more available as optional DLC bonus chapters! The rules are simple. Put Princess Lola into the castle to start it rolling down the tracks. At the end of the tracks is an enemy castle. Smash YOUR castle into THEIR castle to destroy it—but don't let the enemies wipe out the Princess's HP first!

10.

Toodee and Topdee

A cosmic turbulence caused the 2D Platformer and the Top-Down Puzzler dimensions to merge! Switch between Toodee and Topdee and their unique perspectives to overcome hard-as-nails challenges, solve mind-melting puzzles and defeat huge bosses. Oh, and there's a co-op mode!