| Elden Ring | Weird West | Chrono Cross: The Radical Dreamers Edition |
| --- | --- | --- |
| | | |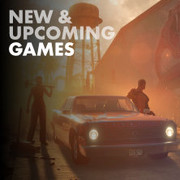 Find release dates, trailers, and scores for major upcoming and recent videogame releases for all platforms, updated weekly.
1.

Moss: Book II

As the next game in the franchise, Book II builds on the story you started with Quill in the original Moss. In this continuation of the journey, the stakes are higher than ever as Quill works to save the world of Moss and end the merciless rule of the Arcane. New allies, old friends, and the very world around you will offer help along the way, but in the end, it is you alone who can lift Quill up to save this world, and together, rise to legend. [Polyarc]

2.

Atelier Sophie 2: The Alchemist of the Mysterious Dream

A mysterious story of a mysterious dream... One of the stories experienced throughout the Alchemist Sophie's many adventures, as she continued her travels after leaving her hometown of Kirchen Bell. This is Sophie's adventure as she searches for her friend Plachta in the dream world Erde Wiege, where they become separated, and shows the bonds she forms with the people she meets and passing of hearts. ■Evolved turn-based battles & seamless transitions! In the 6 member party turn-based battles, the 3 members in the front and 3 in the back form 2 teams cooperating "multi-linked turn battles", and transitions from exploration to battles without loading times in "seamless battles", the entire game can be enjoyed at a great pace. ■2 types of panels for everyone to enjoy synthesis! This game uses panel synthesis, the synthesis system of the Mysterious series, where materials are placed in the panel slots to create new items in this puzzle-like feature. By placing the certain materials in the slots, various effects can be produced. There are 2 types of panels in this game that players can select from : a regular panel and a restricted panel that has a higher synthesis difficulty level. The board of the restricted panel is fairly complex, but when materials are placed just right, items with high effects can be synthesized, which can't be generated from the regular panel.

3.

Persona 4 Arena Ultimax

In P4AU, the characters from Persona 4 and Persona 3 once again find themselves teaming up to face off in the P-1 Climax, a series of battles which must be won before the world ends. The original cast of characters from Persona 3 and 4 are back to discover the mastermind behind the whole tournament, while a few new faces join the fight, including Junpei Iori, Yukari Takeba, Rise Kujikawa, and more. But standing in their way is the dual katana-wielding Sho Minazuki, a huge threat to everyone involved in the P-1 Climax. Worse yet, there's a Sho lookalike who can wield a Persona...

4.

Cotton Fantasy

Cotton Fantasy is a brand-new entry in the Cotton series that sees Cotton and Silk embark on another adventure, this time in HD graphics and with modernised gameplay, but true to its roots!

5.

RiffTrax: The Game

RiffTrax: The Game is a multiplayer party game where players compete to make bad movies funny. Grab your friends and make fun of some of the worst cinematic abominations ever created. RiffTrax has been bringing their comedic commentary to movies for over 15 years - now's your chance to riff along with them! Do you have what it takes to be the next movie riffing genius?

6.

Slipstream

It's 199X, you're in the driver seat. As you turn the key and hear the engine starting, a cassette plays on the stereo. The clear blue sky invites you to escape, to explore a world of exotic landscapes and thrilling races. Step on the gas, choose your path, drive across cities, mountains, deserts, forests, beaches — places from all over the world and beyond. Slipstream is a racing game influenced and inspired by the OutRun series, SEGA games in general, Initial D, Vaporwave & Synthwave aesthetics and the spirit of 90s arcades. It uses a real pseudo3D engine to provide an authentic retro experience in a modern shell. After being funded via kickstarter in 2016 and delayed more times than the developer would like to admit, it was released independently for PC in 2018.

7.

Young Souls

As orphans, Jenn and Tristan's life path brought them to a mysterious scientist, who took them in and cared for them as his own children. But one day, he disappeared under very odd circumstances. While searching desperately for him, the duo found a hidden cellar and the Moon Gate portal, transporting them to a dangerous parallel world where goblins thrive. Your adventure begins as you fight to bridge these two very different worlds. Young Souls is a gorgeous 2D brawler meets story-rich action RPG. Fight hordes of belligerent goblins, level up with hundreds of weapons and accessories, explore, and journey between worlds, as rebellious twins battle their way to save their foster father.

8.

WWE 2K22

Get ripped out of the stands and hit with complete control of the WWE Universe. Hit with the biggest and most realistic-looking WWE Superstars and Legends: The Rock, Sasha Banks, Goldberg, Brock Lesnar & more. Relive pivotal moments in Rey Mysterio's iconic career in 2K Showcase and 619 your way to superstardom. Booyaka! Call the shots as a WWE General Manager in MyGM - Take the reins of Raw, SmackDown, NXT or NXT UK and draft your ultimate roster then compete against rival GM's to build the biggest brand in the WWE Universe. Take on not one, but two MyRISE adventures, featuring unique male & female storylines that let you choose your journey like never before. The Creation Suite is back & better than ever. Be yourself or someone else. Then step in the ring anytime, anywhere in the world. In a franchise-first, the all-new MyFACTION lets you build a faction that rivals the nWo, with weekly events and regular updates!

9.

Chrono Cross: The Radical Dreamers Edition

CHRONO CROSS: THE RADICAL DREAMERS EDITION is a remaster of "CHRONO CROSS". The 3D models have been upgraded to HD, new illustrations have added, and all kinds of new features are now included. Additionally, the game that formed the bedrock of the story, "RADICAL DREAMERS - Le Trésor Interdit -", is included in this edition. CHRONO CROSS is an RPG that transcends time and space, unfolding across two interlinked parallel worlds. With over 40 party members to meet, people and dimensions will intertwine in this epic drama about the planet itself. New Features in the Remastered Edition ・3D models converted to HD ・Refined character illustrations ・Higher-quality background music ・Switch enemy encounters on or off ・Background filter feature ・Battle enhancement features to make combat easier ・Auto-battle function ・Switch between imitation pixel font and HD font ・Change screen resolution

10.

Conan Chop Chop

The treacherous wizard Thoth-Amon has devised a plan to resurrect the ancient evil that is Xaltotun. If he succeeds, he will condemn the world to an eternity of darkness and enslavement. Only you can stop him, but in order to do so you must use all your cunning. All your guile. You must summon all your courage and swordsmanship. You must Chop Chop! Conan Chop Chop is the most epic and realistic stick figure game ever to be set in the world of Conan the Barbarian, thus there will be an excessive amount of gore and flying limbs. Be warned that this may in turn lead to uncontrollable outbursts of joy and/or profanities, usually depending on which end of the sword you are on. 1-4 players Play solo for the ultimate thrill of a roguelike or have your buddies along with you in online or couch co-op mode. Become Conan or someone else! All brawns, no brain? No worries! Choose between a diverse cast of badass warrior gods, and add weapons and items to match your style! Embark on quests of pure epicness! You are about to save the world! The merchants are still going to charge you for their wares, and some townsfolk may even pester you with tasks of their own. But fear not, some of them will make it worth your while. Explore in every direction! Brave the shifting sands of Koth, explore the dark woods in Darkwood, move valiantly through the searing land of Hyperboria and see the icy world of Vanaheim. Conan® Chop Chop lets you explore to the left, right, up and down! A skilled player may even find himself jumping, dashing, or moving diagonally, resulting in the ultimate 3D experience. Loot, loot and more loot! Master the fine art of delicately bashing your enemies' heads in with a broom and turning them into chop suey with a bastard sword. Conan® Chop Chop contains a wide variety of different weapons, trinkets and legendary items, each suited to tailor any kind of violent playstyle you can think of. Master astonishing combos! Perform the breathtaking 360° spin-attack to crack skulls all around you. Dash forward with the speed of light. Swing your sword both longways and sideways in a game that will have you gasping for air as you struggle to grasp the pure awesomeness of your fighting moves. Ruthless bosses! Before facing Thoth-Amon, you must defeat bosses such as The Giant Sand Worm of Koth and The Frost Giant of Vanaheim, neither of which are particularly sympathetic to your cause. Instead they will attempt to destroy you with killer moves like Lava Reflux, Tail Whip and Loogie Glob. Infinite replayability! Completely random maps and tons of weapons and abilities to try out ensure that every new game will be a whole new experience. You are bound to die more than once, but you can unlock new weapons that will be available for your next play-through.