| Vampire: The Masquerade - Swansong | Trek to Yomi | Sniper Elite 5 |
| --- | --- | --- |
| | | |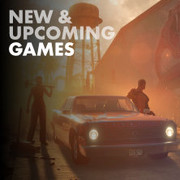 Find release dates, trailers, and scores for major upcoming and recent videogame releases for all platforms, updated weekly.
1.

Elden Ring

A New World Created By Hidetaka Miyazaki And George R. R. Martin. ELDEN RING, developed by FromSoftware, Inc. and BANDAI NAMCO Entertainment Inc., is a fantasy action-RPG adventure set within a world created by Hidetaka Miyazaki creator of the influential DARK SOULS video game series; and George R.R. Martin author of The New York Times best-selling fantasy series, A Song of Ice and Fire. Danger and discovery lurk around every corner in FromSoftware's largest game to-date. Hidetaka Miyazaki, President and Game Director of FromSoftware Inc. Known for directing critically-acclaimed games in beloved franchises including Armored Core, Dark Souls, and Sekiro: Shadows Die Twice. George R.R. Martin is the #1 New York Times bestselling author of many novels, including the acclaimed series A Song of Ice and Fire - A Game of Thrones, A Clash of Kings, A Storm of Swords, A Feast For Crows, and A Dance with Dragons. As a writer-producer, he has worked on The Twilight Zone, Beauty and the Beast, and various feature films and pilots that were never made.

2.

The Stanley Parable: Ultra Deluxe

The Stanley Parable: Ultra Deluxe is an expanded re-imagining of 2013's The Stanley Parable. You will play as Stanley, and you will not play as Stanley. You will make a choice, and you will become powerless. You are not here to win. The Stanley Parable is a game that plays you.

3.

NORCO

NORCO is a Southern Gothic point & click narrative adventure that immerses the player in the sinking suburbs and verdant industrial swamps of a distorted South Louisiana. Your brother Blake has gone missing in the aftermath of your mother's death. In the hopes of finding him, you must follow a fugitive security android through the refineries, strip malls, and drainage ditches of suburban New Orleans.

4.

Rogue Legacy 2

Rogue Legacy 2 is what you'd get if you mashed Rogue Legacy and a sequel together. Every time you die, your children will succeed you, and each child is unique. Your daughter might be a Colourblind Archer, and your son could be a Pacifistic Chef. Either way, one of them is getting conscripted.

5.

Hardspace: Shipbreaker

Equipped with cutting-edge salvaging tech, carve & slice spaceships to recover valuable materials. Upgrade your gear to take on more lucrative contracts and pay your billion credits debt to LYNX Corp!

6.

Tunic

Tunic is an isometric action adventure about a tiny fox in a big world. Embark on an adventuresome questabout set in that place just beyond the farthest you've ever been. Explore ancient ruins, fight monsters and uncover mysterious secrets. The world is big and scary — so be brave, little one.

7.

Death Stranding: Director's Cut

From legendary game creator Hideo Kojima comes a genre-defying experience, now expanded and remastered for the PS5 console in this definitive Director's Cut. Can you reunite the shattered world, one step at a time?

8.

Sniper Elite 5

As part of a covert US Rangers operation to weaken the Atlantikwall fortifications along the coast of Brittany, Karl makes contact with the French Resistance. Soon they uncover a secret Nazi project that threatens to end the war before the Allies can even invade Europe: Operation Kraken. It's Karl's mission to take out the high-ranking Nazi officers and end Operation Kraken once and for all. Based upon real world locations from France in 1944, the new game maps are the largest and most immersive in the franchise's history with the new traversal system offering players an even greater sandbox of options when it comes to taking out their targets. You can even invite a friend to help you on your mission with enhanced cooperative gameplay options.

9.

Patrick's Parabox

A mind-bending recursive puzzle game about boxes within boxes within boxes within boxes. Learn to use infinity to your advantage as you explore a deep and elegant system.

10.

Lumote: The Mastermote Chronicles

Lumote: The Mastermote Chronicles expands on the early access PC game, Lumote, supporting Luminawesome to deliver a complete version of the critically acclaimed release that delivers additional story, creates a whole new game world playing as the mighty Mastermote, and includes a new level of challenges, puzzles, and collectibles. With a brand-new gameplay trailer, narrated by Michelle Rocha, developer and co-founder of Luminawesome Games, players are taken on a journey through The Great Depths guided by the curious and adorable protagonist, Lumote. As the trailer dives into the underwater world, players are introduced to the bioluminescent creatures, known as the Motes, who spend their lives deep in the bioverse, content with living on the rhythms found in the electronica soundscape.